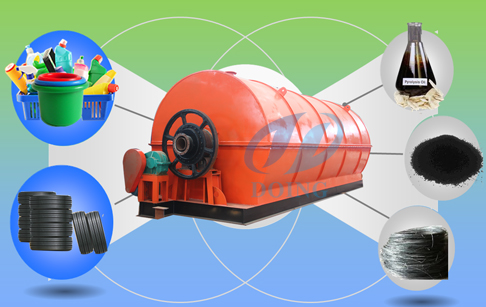 Waste tire/plastic recycling to oil machine
Waste tire/plastic recycling machine can change waste tires or plastics into treasure. It can not only solve environmental problem but also bring you unexpected profit, which is well received by customers worldwide.
The raw material for waste tire/plastic recycling machine can be waste tires/plastics and other rubber.
The final product will be 45%-52% fuel oil, 30% carbon black and 15% steel wire for waste tires.
If your raw material is plastic, you can get fuel oil and carbon black after processing.
Plastic oil rate is very different based on different plastic material. And some plastics are not suitable for pyrolysis processing.
If you are interested in plastic pyrolysis processing, kindly please let me know your plastic material so that we can provide you more useful information.
Plastic/tire uel oil is the main product. It is a kind of very good fuel with 10592.48Kcal/Kg heating value, which has a good market in different countries. It is widely used in boiler factory, cement factory, steel factory, brick factory, and glass factory and so on.

The working process of waste plastic/tire recycling to oil machine



Till now, our plastic/tire pyrolysis machine has already been exported to more than 20countries, such as Mexico, Italy, Romania, Albania, Macedonia, Iran, Bangladesh, India, Jordan, Haiti, Guatemala, Panama, Egypt, Nigeria and so on.
Currently, our plastic/tire pyrolysis machine has taken up 95%above Latin America market, which is one of our biggest market.