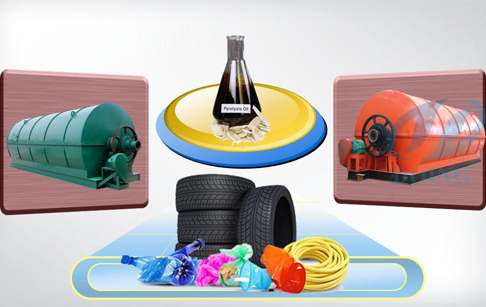 Pyrolysis plant
More and more people have discovered the business opportunity in waste recycling field. When you decide to start a pyrolysis plant to make money and relieve energy crisis, you should take the pyrolysis plant cost into consideration first.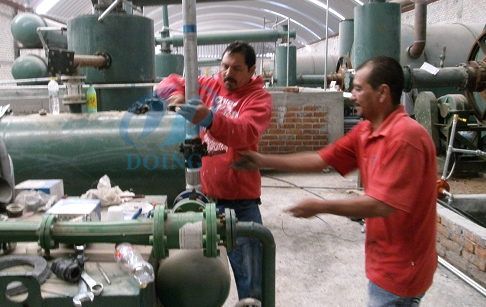 Waste tyre/plastic pyrolysis plant
As a professional manufacturer of waste processing plant, Doing group has summarized these main factors which affects the cost of pyrolysis plant. Pyrolysis plant is a kind of machinery that can convert waste tyre /plastic to fuel oil ,carbon black and steel wire by advance pyrolysis technology. Price is the main factor affecting the cost of pyrolysis plant.

You know different capacity have different cost ,different design have different cost.You can choose the capacity and operating system according to your budget. 1.Raw materials cost Utilizing waste plastics as raw material makes the pyrolysis plants have great profit margins.

First of all, waste plastic is cheap in the market. Then, the plant can convert waste plastic into fuel oil and carbon black. Both of them are useful resources and have wide applications. Moreover, you can also use waste tyres, rubber, oil sludge, medical waste as raw material, which are all quite cheap in the market. With high value and stable prices in the market, these end-products will surely get your cost of raw materials back soon and bring great benefits for you.

2.Machine cost
About the machine cost, firstly I want to introduce that the 2 types pyrolysis plant we have. One is btach type pyrolysis plant, the capacity is from 100kg per batch to 10ton per batch. The other one is fully automatic continuous pyrolysis plant, the capacity is from 10T/D to 100T/D. About the machine cost, it's different depends on different configurations.

3.Installation cost
In order to save the installation cost for customers, we have developed a new design of the machine to make it into frameset. This way, the machine no need much installation works in customer 's factory.

4. Land & construction cost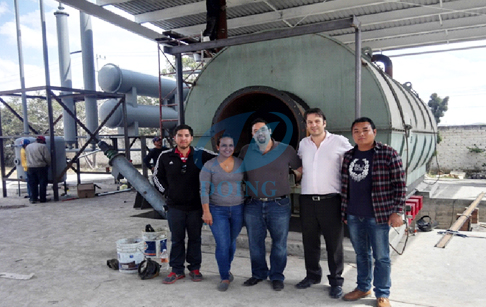 Waste tyre/plastic pyrolysis plant
Firstly, land cost is mainly decided by the installation size of the machine. And the tire pyrolysis plant no need much construction cost, only need to build a roof to keep the machine out from wind and rain is ok.

5.Operation cost About the operation cost of the machine, it's mainly about the power consumption and worker's salary.