Doing convert plastic into diesel plant is the one of most effective methods to convert waste plastic into diesel. With 20 years' experience and research in this field, we have the latest design equipment and the most advanced technology.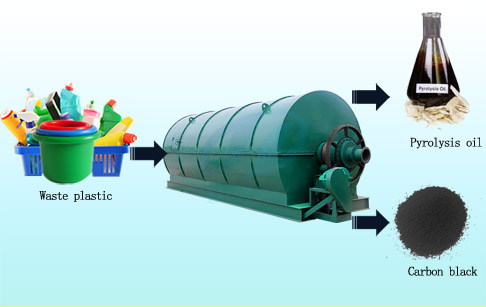 Waste plstic pyrolysis plant
Generally, We use waste plasic pyrolysis plant convert waste plastic into plastic oil. The plastic oil can be used used as industrial fuel materials for burning. But to get diesel which has wider applications, the most important pyrolysis plant we need is called oil distillation plant. This equipment finishes the significant step of converting waste plastic to diesel. It adopts the latest distillation technology, which also can be called refining technology. This technology takes advantage of high temperature and effectively removes the particles, colloidal matter, acid and odour from plastic oil by acid-treatment and filtration.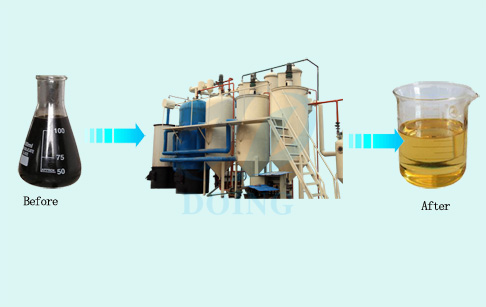 Convert waste plastic into diesel
Through the plastic into diesel process, we can get qualified diesel oil that can be used in the low speed engine, such as digging machine, road roller, loading machine and so on. The diesel has higher economic value and higher price in the market, and also can relieve energy crisis.

When choosing convert waste plastic into diesel plant, you surely take cost into consideration without a doubt. The most important factor of deciding the plastic to diesel plant cost is the price of the plant. Having viewed the advantages of the plant, you will find the price is reasonable enough and the plant can save much cost for you.

Convert waste plastic into diesel plant working process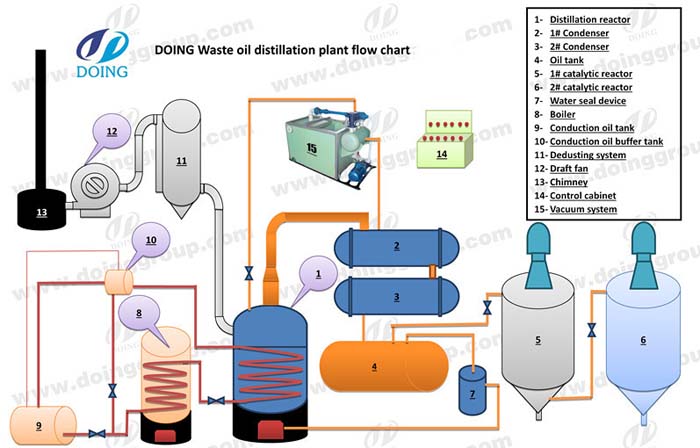 Convert waste plastic into diesel working process
1. Put plastic oil into distillation reactor with oil pump
2. Heating system works to heat waste oil over 170℃
3. Distillation oil gas produced and cooling down to pure distillation oil by condensers
4. After distillation, the distillation oil is pumped into odor-removal tank where catalysts used to remove the smell
5. Then oil go into color-removal tank for de-coloring with the special catalysts
6. Finally, you can get about 85% pure diesel oil.


Technical parameters of Convert waste plastic into diesel
Technical parameter of Convert waste plastic into diesel

Items

Contents

Model

DY-5t, DY-10t, DY-20t, DY-50t…

Raw material

motor oil, waste tire crude oil, plastic crude oil

Structure form

Vertical (easy cleaning and maintenance)

Heating method

Indirect heating to prolong the machine service life

Operating pressure

Constant pressure

Heating material

Coal, charcoal, fuel gas, fuel oil

Average out-put oil rate

95%

Material of reactor

4 reactor with different material

Thickness of reactor

18mm

Mode of cooling

Recycled water cooling

Power in total

20 Kw

Service life

average 7 years

Land area

180㎡
Convert waste plastic into diesel final diesel application
Convert waste plastic into diesel application to waste plastic oil ,tire oil ,crude oil. By waste plastic to diesel plant distillation,we will get clean,the diesel will

be used to tractors, trucks, ships and diesel oil generators etc.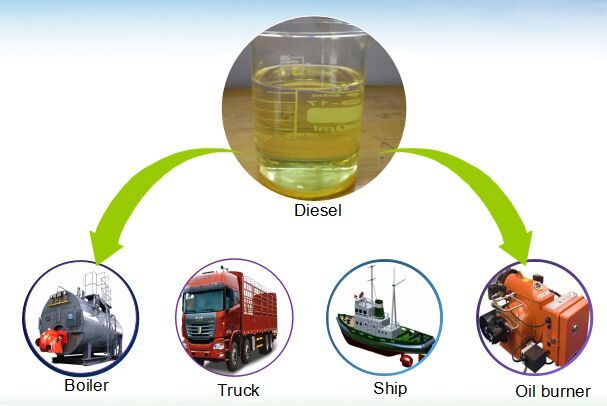 Diesel application