Small capacity waste oil distillation machine is used for refining waste oil to clean diesel. Unique design and outstanding functions can help customer create more profit. This equipment is matched with pyrolysis plant. It is widely applied in waste oil management industry.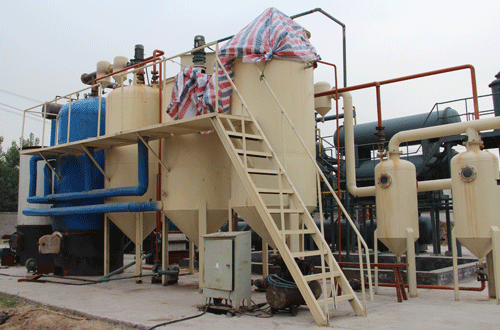 Waste oil distillation machine
Small capacity waste oil distillation machine working principle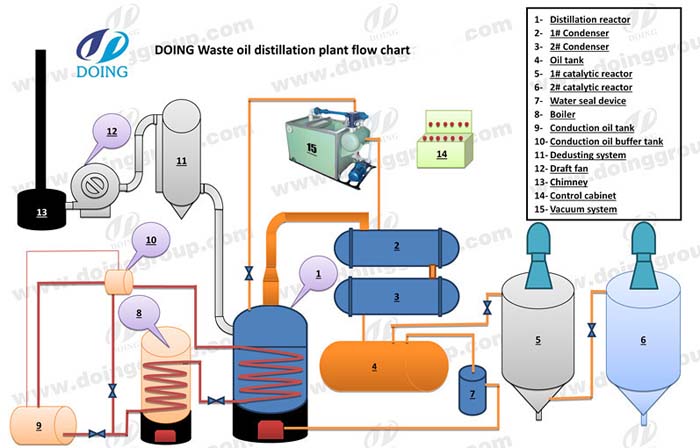 Small capacity waste oil distillation machine working process
1. Pump raw material into distillation reactor by oil pump. Then close the feeding inlet to totally sealed. (Continuous plant adopts automatic feeding device);
2. Use coal/wood/natural gas/fuel oil/electricity to heat the reactor, and the liquid oil will slowly become oil gas, which will be liquefied into fuel oil by the cooling pipe and condensers and then go into oil tank. For getting higher quality diesel, you are required to control the temperature over 150 Celsius degrees. When the temperature decreases to below 150 Celsius degrees, the gasoline will be cooled out;
3. Some gases like Methane, Ethane, Propane, Butane cannot be liquefied will be recycled into the furnace for heating the reactor;
4. It will produce some smoke when fuel materials are burnt. The smoke will be processed by dedusting system completely;
5. The exhaust gas will go into the chimney sucked by draft fan, before emission the exhaust gas will become steam, no pollution.


Small capacity waste oil distillation machine advantage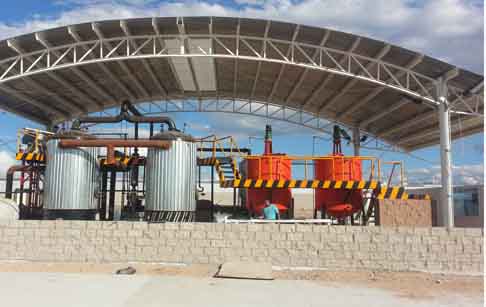 Waste oil distillation machine
Safety:
Safety is the most important factor in the whole process. We had successfully researched some safety devices which ensure waste oil distillation machine work safely.
Safety valves, alarming device and the pressure gauge etc.

We also have oil-water separator which can stop the oil gas recycle to the reactor, which could avoid the accident.

High degree of automation: feed the waste oil, crude oil automatically, to pump oil automatically.
Energy saving:
Well sealing for heating system, no gas leak and saving fuel.

Continuous feeding with automatic feeder, no gas leak.

Recycling of exhaust gas and scientific fire channel design can save energy and thereby reducing costs.
Environmental friendly:
The whole process is all sealed, won't release any gas harmful to human and environment.

Well water dedusting system can avoid black smoke.
Technical parameter of Small capacity waste oil distillation machine

Items

Contents

Model

DY-5t, DY-10t, DY-20t, DY-50t…

Raw material

motor oil, waste tire crude oil, plastic crude oil

Structure form

Vertical (easy cleaning and maintenance)

Heating method

Indirect heating to prolong the machine service life

Operating pressure

Constant pressure

Heating material

Coal, charcoal, fuel gas, fuel oil

Average out-put oil rate

95%

Material of reactor

4 reactor with different material

Thickness of reactor

18mm

Mode of cooling

Recycled water cooling

Power in total

20 Kw

Service life

average 7 years

Land area

180㎡
Waste oil distillation machine are widely used in transferring waste oil into diesel. The raw materials can be waste fuel oil, waste engine oil, crude oil, lubricant oil, etc. This is a sunrise project, which turn waste into energy.

Diesel oil application: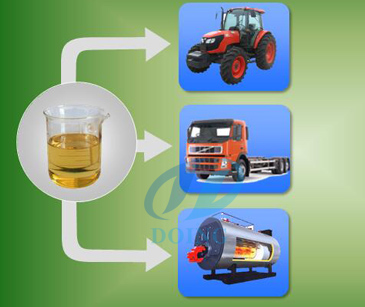 Diesel application