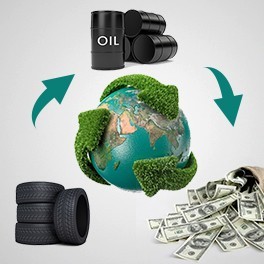 Used tyre
Every year, the growing total number of private car and truck promotes development of economic all over the world; meanwhile, a large number of waste tyre has been discarded because of consumption and abrasion. Only 50% of them have been recovered, waste resources have been wasted seriously, and used tyres disposal has been focused on more and more countries, more and more people are interested in Used tyre pyrolysis process to oil plant design. It is also called as tyre pyrolysis plant.

At present, in order to meet the material performance requirements, tyres are becoming more high strength, wear resisting, stable as well as ageing resistant, which could result in tyres discarded cannot naturally degrade in much longer period, maybe hundreds of years. It is called as black pollution.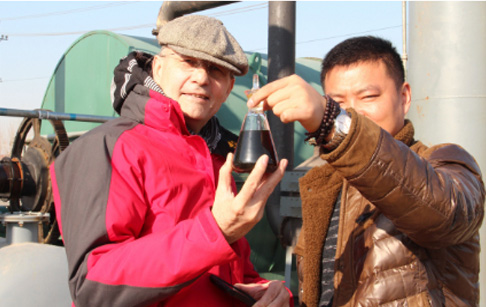 Used tyre pyrolysis process to oil plant design
Doinggroup is the top professional manufacturer of Used tyre pyrolysis process to oil plant design in China; our company has researched a suit of high-tech pyrolysis plant, which can convert waste tyre to oil in large scale, in principle of green, sustainable development and economic benefits. This plant has a great market potential. And it is also can turn waste plastic to oil.

Used tyre pyrolysis process to oil plant design working process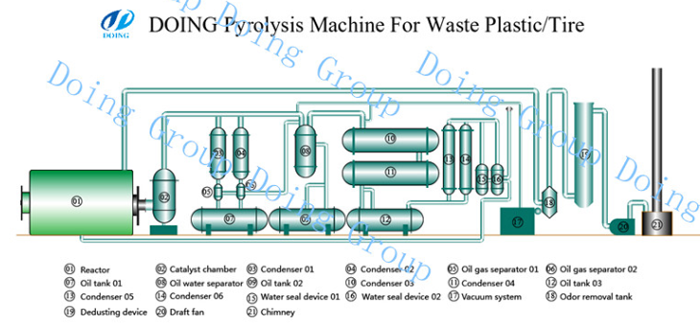 Used tyre pyrolysis process to oil plant design working process
→ The constant temperature heating system supplies heat to the pyrolysis reactor. The raw materials are continuously fed into the pyrolysis reactor and spreaded by the system, completing pyrolysis reaction with the high-efficiency catalyst.

→ The pyrolyst oil gas is turned into high quality fuel oil and small amount of combustible gas after following processes such as fractional distillation separation, fixed bed secondary gas catalyzing and de-waxing etc.

→ The combustible gas is totally used as fuel to the system after scrubbing, which achieves heat energy self-supporting. The gas after being burnt will be qualified discharged after gas purification process.

→ The small amount of solid residue generated from the reaction is continuously discharged out of the reactor, and that could be further processed into fuel stick.
Used tyre pyrolysis process to oil plant design advantage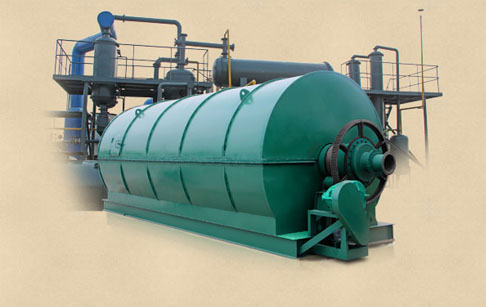 Used tyre pyrolysis process to oil plant design
1.Automobile industry & tyre manufacturing companies have reported high growth in recent past & is growing year by year. As a result, there is drastic growth reported in the generation of scrap tyres in recent past & will grow every year as per current survey of Tyre Asscoiation . As a result, plenty of waste tyres are available as a raw material in the market.

2. Pyrolysis Plant finished product Pyrolysis oil is in great demand in the market which is consumed & used by number of industries as a burning fuel. Pyrolysis Oil cost is cheaper than furnace oil & light deisel oil as per oil market hence, can be used as a substitute according to the various applications.

3. High raw material available & high market demand of pyrolysis plant finished products makes this business opportunity highly profitable & give return on investment within 1 year only.

Used tyre pyrolysis process to oil plant design technical data
Technical parameter of

used tyre pyrolysis process to oil plant design

No.

Items

Contents

1

Equipment type

DY-1-6

DY-1-8

DY-1-10

2

Raw material

Waste tyres

waste tyres

waste tyres

3

Structural form

Horizontal rotation

Horizontal rotation

Horizontal rotation

4

24-hour Capacity

6 ton

8 ton

10 ton

5

Oil yield

2.7-3.3ton

3.6 -4.4ton

4.5 -5.5ton

6

Operating pressure

Normal

Normal

Normal

7

Material of pyrolysis Reactor

Q245R

Q245R

Q245R

8

Thickness of pyrolysis Reactor

16mm

16mm

16mm

9

Rotate speed of pyrolysis Reactor

0.4turn/minute

0.4turn/minute

0.4turn/minute

10

Total power

19KW

19KW

19KW

11

Mode of cooling

Water cooling

Water cooling

Water cooling

12

Cooling area of condenser

100sqm

100sqm

100sqm

13

Kind of transmission

Internal gear drive

Internal gear drive

Internal gear drive

14

Noise dB(A)

≤85

≤85

≤85

15

Size of Reactor(D×L)

2200×6000

2200×6600

2600×6600

16

Working form

Intermittent operation

Intermittent operation

Intermittent operation

17

Delivery time

20days

20days

20days

18

Weight

27T

30T

35T
Prepared by customer about

used tyre pyrolysis process to oil plant design

No.

Item

Consumption

1

Coal(for choice)

500kg/day

2

Wood(for choice)

800kg/day

3

Natural gas(for choice)

100-150kg/day

4

Oil(for choice)

300-350kg/day

5

Electricity

244kwh/day

6

Water(recycled)

60㎥ /month

7

Total power

19kw

8

Land area

35m*15m
Used tyre pyrolysis process to oil plant design application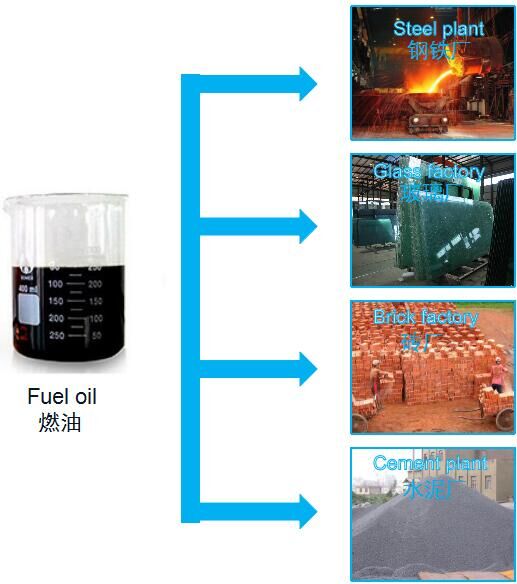 Fuel oil application
1.The usage of final production-----Fueloil
Fuel oil from tyre recycling use of used tyre pyrolysis process to oil plant design are used in below industries
A.Power plant factory
B.Plass factory
C.Cement factory
D.Ceramic factory
E.Aluminum factory
F.Boiler factory
G.Central heating factory
H.Painting factory

The usage of final production-----Carbon black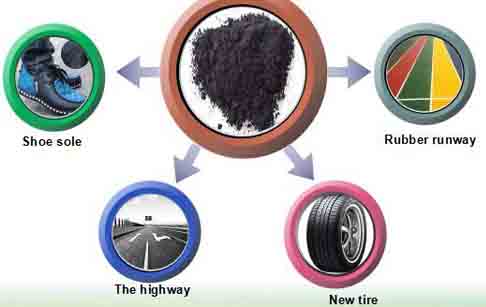 Carbon black application
Carbon black from tyre recycling use of used tyre pyrolysis process to oil plant design are used in below industries
A.Electric cable jacketing
B.Conveyor ban
C.Hose and doormat
D.Black nylon bag
E.Rubber additive
F.Automatic spare parts
G.Heat isolation
H.Black colorant in rubber materials