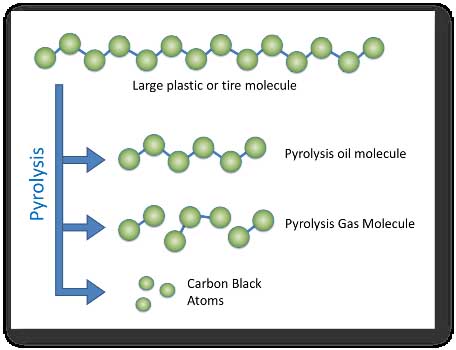 This is pyrolysis
What is pyrolysis?
Pyro = heat. Lysis = break down.Plastic Pyrolysis is chemical reaction. This reaction involves molecular breakdown of larger molecules into smaller molecules in presence of heat. Pyrolysis is also known as thermal cracking, cracking, thermolysis, depolymerization, etc.
At any given temperature the molecule is in vibrating stage. This is called molecular vibration. The frequency at which molecules vibrates is the directly proportional to the temperature of molecules. During pyrolysis the object's molecules are subjected to very high temperatures leading to very high molecular vibrations. At these high molecular vibrations, every molecule in the object is stretched and shaken to such an extent that molecules starts breaking down into smaller molecules. This is pyrolysis.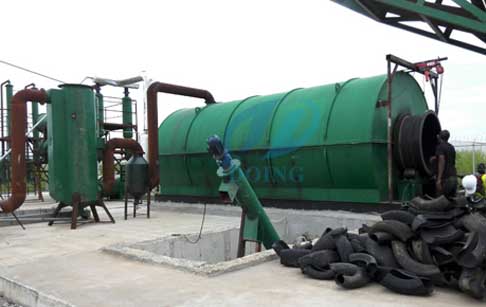 Waste tyre to fuel oil pyrolysis plant
With more than ten years of experience and efforts,Doing have designed and manufactured the waste tyre to fuel oil pyrolysis plant which has many latest designs. First, it is equipped with automatic feeding system and two sealed discharging systems, which makes it easier and more safe to operate.Waste tyre to fuel oil pyrolysis plant for recycling waste tyre and turning waste tyre to fuel oil ,carbon black ,steel wire.
Waste tyre to fuel oil pyrolysis plant raw material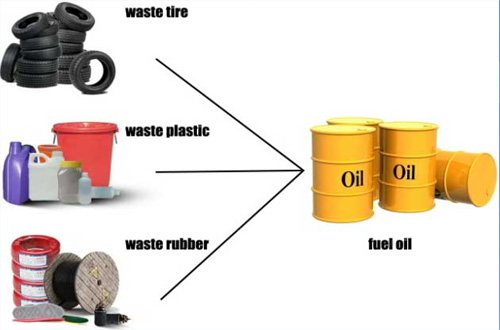 The raw material of waste tyre to fuel oil pyrolysis plant
1.Waste tire/tyre
2.Waste plastic
3.Waste rubber
Waste tyre to fuel oil pyrolysis plant working principle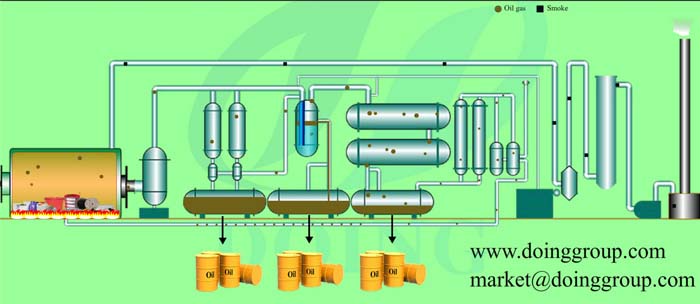 Waste tyre to fuel oil pyrolysis plant is proessing waste tyres
1. Firstly, the raw material was put into furnace with auto feeder,then seal the feed inlet system.
2. Secondly, burned the fuel material (coal, or wood, or natural gas, oil ) in the combustion system .The reactor will slowly heat, when the temperature reach around 150 degree Celsius, it will produce oil gas .
3.Oil gas will be processed by our technology ,then gone to cooling system to cold liquid oil. The gas which can not be liquid under normal pressure ,which will be designed to back to combustion system to instead the fuel material to burn the reactor .which can save energy very much.
4. After finished oil produce ,the temperature of reactor will be down ,in same time ,carbon black will be discharged automatically.
5. Lastly, when the temperature fall to 100 degree Celsius, worker could opened the door of reactor to discharge of steel wire .
Then can start to another batch working.
The keys of Waste tyre to fuel oil pyrolysis plant are reactor and cooling system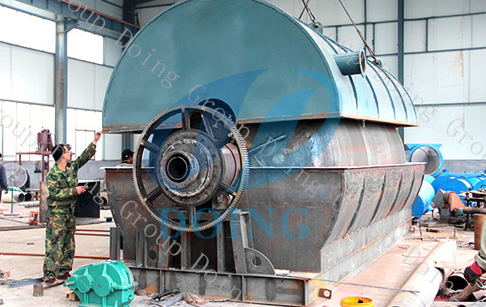 Pyrolsyis plant reactor
Reactor directly decides the machine's safety and service life. It is made by welded steel plate. So the quality of welding will have a direct impact on safety and service life. Therefore, we use automatic welding machine, X-rays detection and heating treatment which will not only guarantee the quality of welding but also greatly improve working efficiency. Waste tyre to fuel oil pyrolysis plant cooling systems decides oil output. There are two steps for cooling. Cooling pipe is the first step. The second is condenser. Its inner have 61 pipes in one condenser. The total cooling area is 100㎡. This will guarantee you a high oil yield. The reasonable design has a direct relationship with the oil output.
Waste tyre to fuel oil pyrolysis plant main features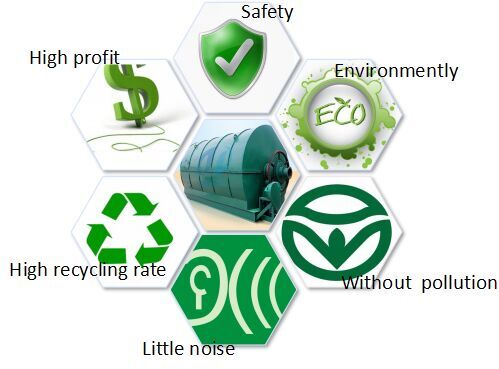 Waste tyre to fuel oil pyrolysis plant feature
1.We can get tyre oil,carbon black,and steel from waste rubber tyres and plastics.
2. High oil output rate 45%-52%, the rubber up to 60%.
3. Rapid condenser, we have 5 condensers, the cooling area up to 53 square meters, the area larger, the more oil u can get.
4. Large capacity: 6tons / 8tons / 10tons / 12tons / 20tons.
5. Safety device, we have automatic alarm bells with pressure gauge, If pressure gauge more than the pressure, bells will ring.
6. Environmental protection, no pollution, no smell. 7. 6—8 years life, 1 years warranty.
Waste tyre to fuel oil pyrolysis plant final product application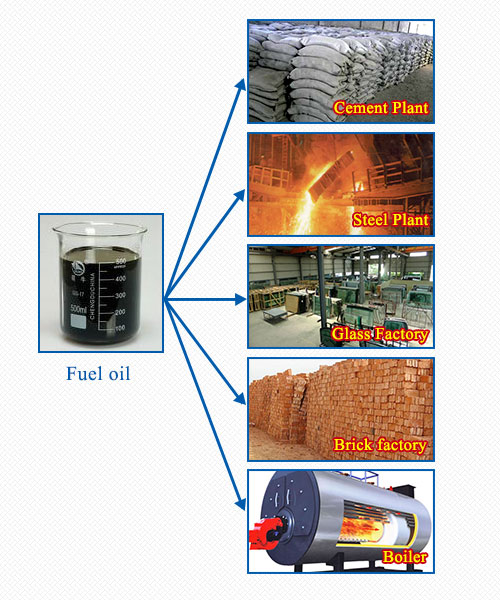 Fuel oil application
Fuel Oil (45% to 52%)
The main application of oil products produced by our Waste tyre to fuel oil pyrolysis plant is the fuel oil that is wide used for industrial and commercial purposes. Such as power plant factory,glass factory,cement factory,ceramic fatory.
Steel Wire (12% to 15%) Waste tyre to fuel oil pyrolysis plant is steel wire, the quantity of steel wire is about 10% to 15% according to tyre quality. It is very easy to sell steel wire scrape in local market.
Carbon Black (30%)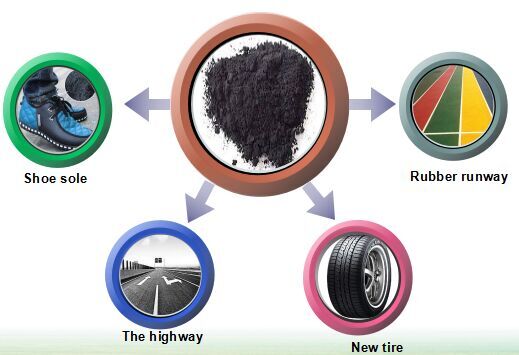 Carbon black application
The second product of Waste tyre to fuel oil pyrolysis plant is carbon black. The quantity of carbon black is about 30% to 35% according to tyre quality. Carbon black can application to electric cable jacketing,black nylon bag,rubber additive
Exhaust gas (About 10%)
We get about 10% pyrolytic gases during tyre to oil recycling process. The main component of this gases are methane (CH4), so we can not condense and store this gases. We use this gases to heat the reactor and we can use exceed gases for other heating application.