Scrap tires are currently being used in various industries, including waste tire pyrolysis to oil plant caused governments at home and abroad attention and recognition. Each country is also improving the level of comprehensive utilization of waste tires and waste tire to oil plant, building a resource -saving and environment -friendly utilization of waste tire industry, to promote the sustainable development of the rubber industry.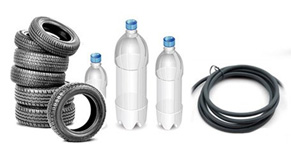 Raw material( waste tires, plastic, rubber)
Fully understand the importance of waste tire pyrolysis to oil plant
With the rapid development of the national economy and people's living standards to improve, China has become the rubber consuming country resources. At present, China's annual rubber consumption accounted for 30% of the world total consumption of rubber, each year industrial rubber products needed more than 70% natural rubber, synthetic rubber more than 40% of the need to import, supply and demand is very prominent, the shortage of rubber resources increasingly apparent for the impact of national economic development.
Tires are China's major rubber products. In terms of utilization of waste tires, China has initially formed remanufacturing two business segments, one is waste tire pyrolysis to oil plant, and another is retread tires. Which waste tire pyrolysis to oil plant factory about 100. Waste tire retread rate, recovery and utilization are at a lower level. Comprehensive utilization of waste tire industry in China is far short of the current severe resource and environmental situation demands.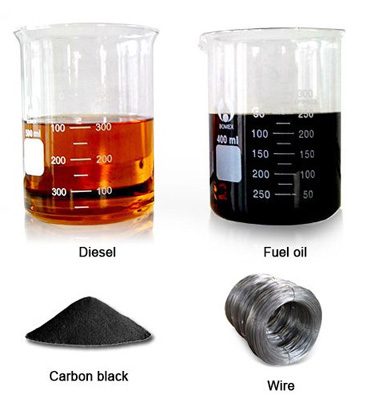 Final products( fuel oil, diesel, carbon black, wire)
Issues facing the development of comprehensive utilization of industrial waste tires: first, engaged in comprehensive utilization of waste tires mostly is small-scale enterprises , poorly equipped and comprehensive strength is not strong, especially in the secondary pollution recycled rubber business problem is not resolved; Second, the relative industry management is weak and have not established recycling system operating specifications, the technical level is relatively high scrap tire business is difficult to get the resources needed for production. Vigorously carry out the comprehensive utilization of waste tires, rubber industry development of recycling economy, can alleviate shortages of rubber resources and reduce dependence on imported rubber resources, but also an important measure of China's rubber industry to promote energy conservation, it has an important strategic and practical significance.
By the impact of soaring international crude oil prices, since the second half of 2002, the use of indigenous tire pyrolysis to oil phenomenon began outcrop in the area of Zhejiang Jinhua. After this, the phenomenon quickly spread to other provinces, like Shandong Province , Jiangxi, Hunan, Hubei, Anhui, Jiangsu, Sichuan, including Henan Dong Ying Machinery Co., Ltd. specializing in the production of waste tire pyrolysis to oil plant with a high-quality and Eco-Protect. Finally decompose waste tires into fuel oil, carbon black, steel wire, where in the fuel oil is about 45% -52 %, 35% carbon black and 15% steel wire. Fuel oil can be used to heating mostly used for heavy factories, such as cement factory, glass making factory and boiler factory etc. Furthermore, this waste tire pyrolysis to oil plant can also pyrolysis waste plastics, waste rubbers and waste oil to diesel etc.