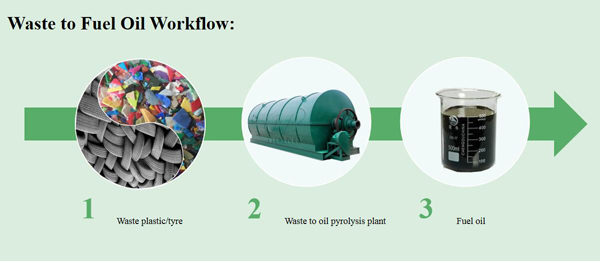 Waste tyre to oil recycling process plant
Every year, the growing total number of private car and truck promotes development of economic all over the world; meanwhile, a large number of waste tyre has been discarded because of consumption and abrasion. Only 50% of them have been recovered, waste resources have been wasted seriously, and scrap tyres disposal has been focused on more and more countries, more and more people are interested in waste tyre to oil recycling process plant for sale. It is also called as tyre pyrolysis plant. The waste tyre to oil recycling process plant can convert waste tyre to fuel oil, carbon black and steel wire.
How to convert tyre to oil using machine?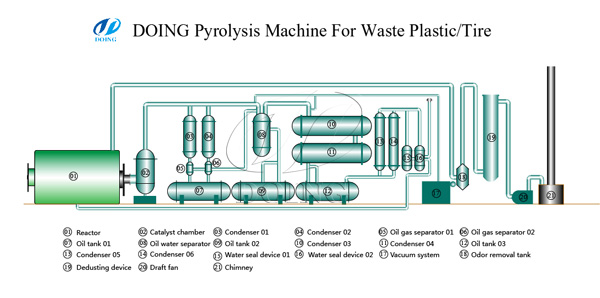 Waste tyre to oil recycling process plant working process
1.First, the waste tyres are put into the reactor and seal the doors in the reactor.
2. Start the pyrolysis plant reactor will rotating and be heated. When the inside temperature reaches the degree of 250 to 280, the oil gas will begin to generate while flow through oilgas separator, and continuously produce until the temperature up to the degree of 350 to 460.
3.In oil gas separator, light component will enter the condensers, meanwhile, heavy component will be liquefied and then automatically discharged into heavy oil tank.
4. Most of the light component will be liquefied into oil through cooling system and stored in the oil tank. The incondensable gas though dusulphurization and dedust by hydroseal will be led to the furnace for recycling.
5.After all fuel oil is produced, the reactor should be cool down. Carbon black will be discharged automatically when the temperature falls down 40 degree. If the raw material is the whole tire, please take out steel wire form the reactor by hooks below 50 Celsius at least.
6.There possibly will be a little exhaust gas left, please must expel it after reaching emission standard.
7. Before starting next batch, make sure all the work has been done.