On June 29, 2019, two Chinese customers visited the DOING company for waste tyre oil extraction machine.
We talked about the technical details of the waste tyre oil extraction machine and the market of this business in the office. The customers are very clear about the local market and are very positive about our technology. Then we went to our processing workshop, and the customers were very excited to see our 12-ton waste tyre oil extraction machine, They paid special attention on the details of the equipment and requires the safety of the equipment to meet EU standards. One of them is an engineer who is engaged in machining and has a wealth of experience, he believes that the design and quality of our waste tyre oil extraction machine is no problem and can achieve the EU standards.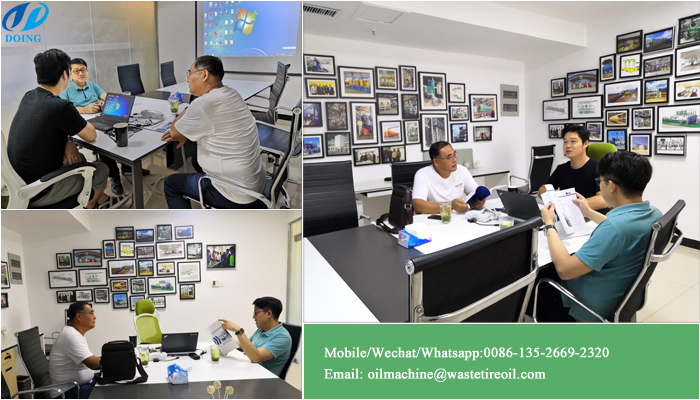 Customer from Canada is talking about the machine details with our manager
The customer are doing retreading business of waste tyre in Canada. Because there are many vehicles in Canada, but there are few channels of use, so the used tires are not fully utilized. A large number of unsolved waste tyres have caused a great safety hazard and have a great impact on the environment.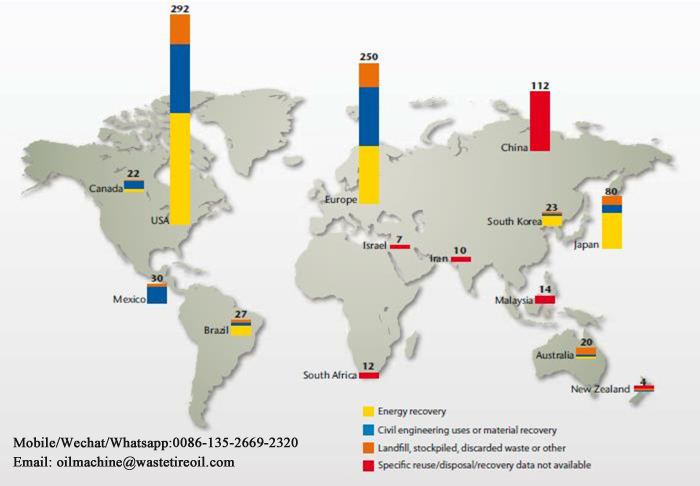 Common methods and proportions of waste tire treatment
They have been studying this waste tyre oil extraction business for more than two years and believe that it is the most suitable solution for handling their local waste tyres in Canada. It can not only dispose of waste tyres, but also obtain huge economic benefits. In addition, waste tyre pyrolysis has also attracted the attention of the Canadian government. Their local government encourages their citizens to start a business like this.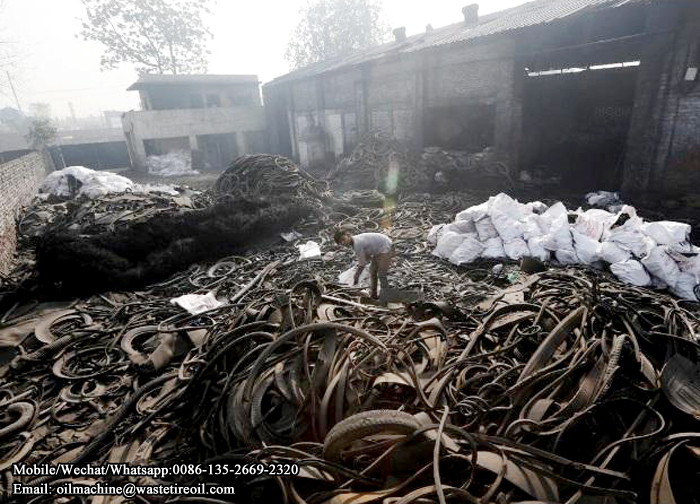 People are preparing waste tyres for waste tyre oil extraction business in Canada
They stayed in our company for nearly a day and was very positive about the professionalism of our company. Next week, they will back to Canada. The main job for them is to find a proper land for building this factory. Once they find it, they would come back again to negotiate contracts and order waste tyre oil extraction machine.