With the plastic producing factory increasing day by day, the "white pollution" is also being into our lives, everyday in our life, throw away the plastic packaging is a lot of people practice. But throw these plastic packaging is easier than deal with these waste plastic.
Increasing waste rubber and plastic waste does not readily decompose, at present, the easiest way to solve these waste plastic is to simply landfill and burning. And Now, dealing with these pollutants can no longer rely on landfill and burning, because the landfill take up a lot of valuable land resources, will pollute the surrounding environment and groundwater systems, simply burning will emissions harmful gases and residue left behind. So to introduce measures to support the production of environmental protection waste plastic to oil machine, turn waste plastic to treasure. By waste plastic to oil machine can convert them into fuel oil, not only can get fuel oil and diesel oil from waste plastic, but also can get carbon black and other products.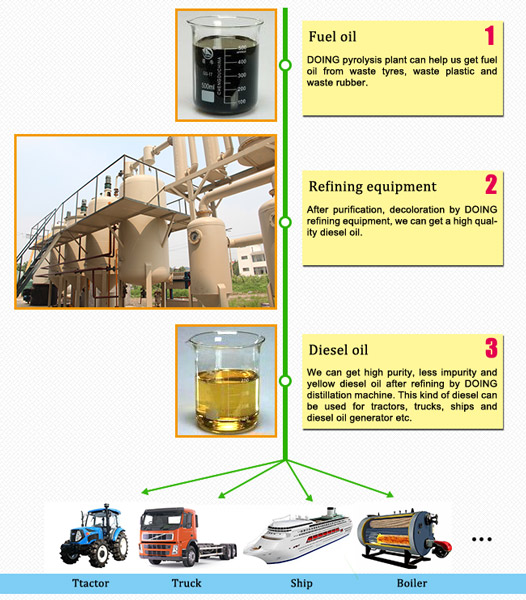 Diesel oil from distillation machine can be used for above factories
There have no "three wastes" emissions during waste plastic to oil processing. The mainly emissions product is propane, ethane and other light alkanes with 6-8% content, these emissions can be recycled by professional technical measures and also can be flare burned. The emission has no physiological harm to plants and animals. It totally can meet related international emission standard. In addition, fuel oil, diesel fuel is a necessity of our life, and with the introduction of fuel tax is expected, fuel oil and diesel price will be continues to rise. It shows waste tyre pyrolysis to oil machine and waste plastic to oil plant has a bright future, seize the opportunity and get a substantial profits.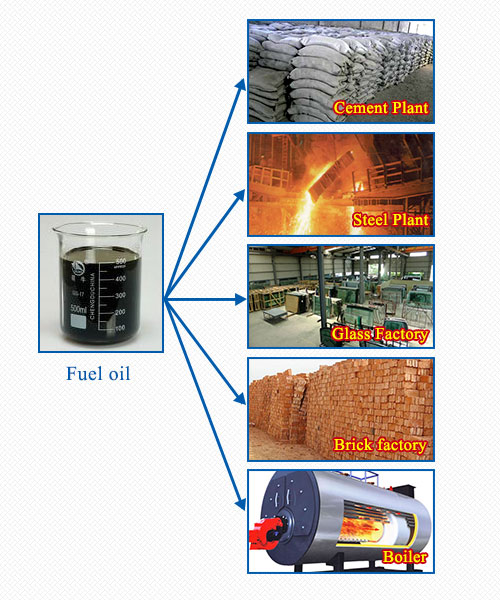 Usage range of fuel oil(tyre oil, plastic oil, rubber oil)