When deciding to go into the waste plastic pyrolysis business, the cost of a waste plastic pyrolysis plant is probably the first thing you need to consider. In fact, since a waste plastic pyrolysis plant project is a large scale waste recycling project, the cost will include many aspects. Therefore, it is essential to make a specific cost estimate.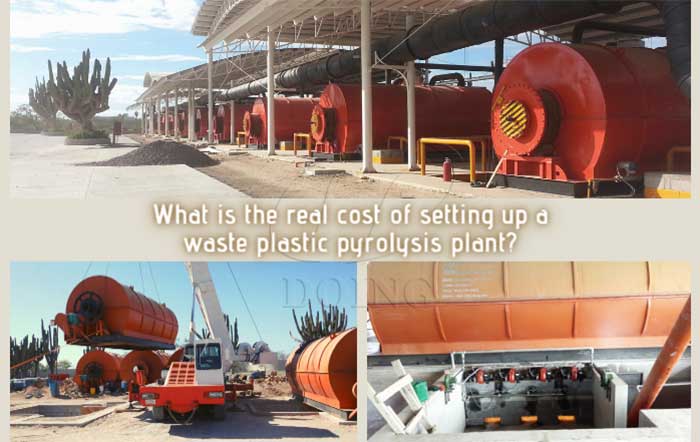 What is the real cost of setting up a waste plastic pyrolysis plant?
The cost of the equipment that you are most concerned about will probably takes up most for the initial investment. There are two main types of pyrolysis equipment commonly available on the market: intermittent pyrolysis plant, which costs about $32,000-$75,000; and continuous pyrolysis plant, which costs about $300,000-$600,000. Of course, the cost is only an estimate, and it's different according to different capacities of pyrolysis plant; Doing Group has not only researched and developed these two types of equipment, but also has designed many complementary equipment to improve automation and oil yield, and you can choose the configuration according to your budget and needs. After the purchase of waste plastic pyrolysis plant, you will also incur some follow-up service costs, such as installation, repair and maintenance costs. Other costs include plant site costs, fuel costs, utility costs, labor costs, etc. We have previously devoted to these, which you can view by clicking here: How to set up a waste plastic pyrolysis plant project?
These costs may be very stressful for you. But when running a waste plastic pyrolysis plant, you will get fuel oil, carbon black and combustible gas as the end product. If the end product is good enough and the plant runs efficiently enough, you will get a significant return from it.
In order to get high cost-effective equipment and make a successful business, Doing Group has made a series of breakthroughs in process and material of waste plastic pyrolysis plant, and great after-sales service to help you reduce cost and get more profit. Let's look at the advantages of waste plastic pyrolysis plant now.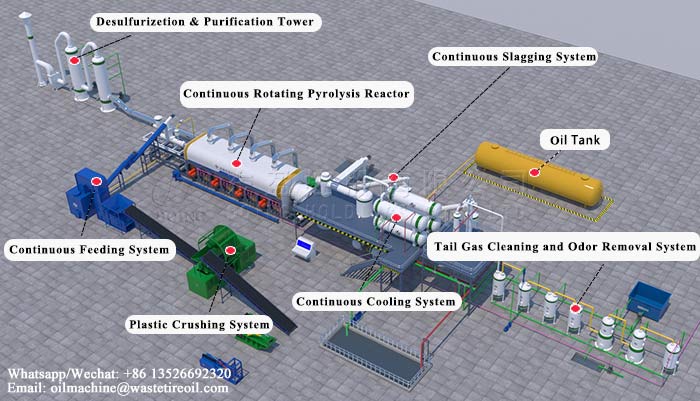 Waste plastic pyrolysis plant 3D image
▶ Sealed feeding and slag discharging system
The sealed feeding system can minimize the waste of raw materials and ensure the safety and environmental protection at the same time. The slag discharging system is also sealed and high temperature resistant, so there is no need to cool down the reactor before discharging carbon black, and it can be discharged at a higher temperature directly, which can save the time of cooling down the reactor in the current round and the preheating time of pyrolysis in the next round. This really saves a lot of fuel costs and time costs.
▶ Combustible gas reuse system
The combustible gas produced during the pyrolysis process can be used to heat the reactor after de-dusting and desulfurization, which can save fuel costs to a great extent. Of course you can also collect the combustible gas in an airbag. However, the gas bladder should be placed away from the combustion chamber to ensure the safety of the pyrolysis process.
▶ Material of the pyrolysis reactor
Doing waste plastic pyrolysis plant uses durable and high temperature resistant materials for the pyrolysis reactor and adds refractory materials to the housing. In this way, the service life of the pyrolysis reactor will be extended and the customer will save a lot of money for replacing a new reactor.
▶ Great after-sales service
Doing waste plastic pyrolysis plant has been sold to more than 60 countries and regions all over the world. We can provide thoughtful and comprehensive service for every customer. If you buy our equipment, we will arrange professional engineers to guide you to install and commission the equipment, provide you with technical training for local workers, one year free warranty and lifetime technical support.
All in all, if you have made a decision to invest in waste plastic pyrolysis plant, you can trust us to provide you with the most reliable solutions. If you would like more information about the cost of waste plastic pyrolysis plant, you can share your specific questions with us. Please leave us a message below and we will contact you within 24 hours.