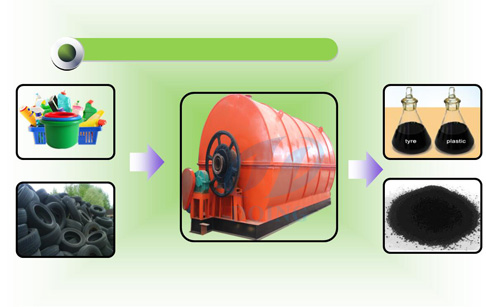 Pyrolysis system for waste tyre/plastic
We henan doing mechanical equipment co,ltd are manufacturer and supplier of the pyrolysis plant,tyre to oil pyrolysis plant,waste oil distillation plant. pyrolysis plant for recycling waste tyre has the advantages as follows:
The pyrolysis plant for recycling waste tyre&rubber is non-pollution to the environment.

The oil yield is higher if added the special catalyst during the reaction.

The fully automatic pressure and temperature control system will realize the microwave control of the reaction to further increase the oil yield rate of the pyrolysis.

We adopt Q245R to make the service life of the reactor longer.

Energy saving, the reactor will use its own gas to heat the reactor. Thus nearly save all the energy. No external energy is required to heat the reactor.
We specialized in the pyrolysis plant for many years; we have pyrolysis plant for waste tyre and waste waste plastic. And we have waste oil distillation plant which extract diesel from waste engine oil, waste motor oil or plastic&tyre oil. We have more than years experience and mature technology. We have many experienced technicians to support and develop our technology. We have installed more than 100set machines overseas such as India, Pakistan, and South Africa, Albania, turkey, Malaysia, and Ecuador.