Plastic is an annoying waste, but if we can change it into some useful thing for a better use, that will be very good for our environment. Waste plastic pyrolysis plant is just a machine that can solve this problem. Being processed by the waste plastic pyrolysis plant, waste plastic turns into oil and carbon black under an oxygen-free environment. The primary end product of the processing, pyrolysis oil, also called as plastic oil can be used as fuel directly or be reprocessed and purified for better use.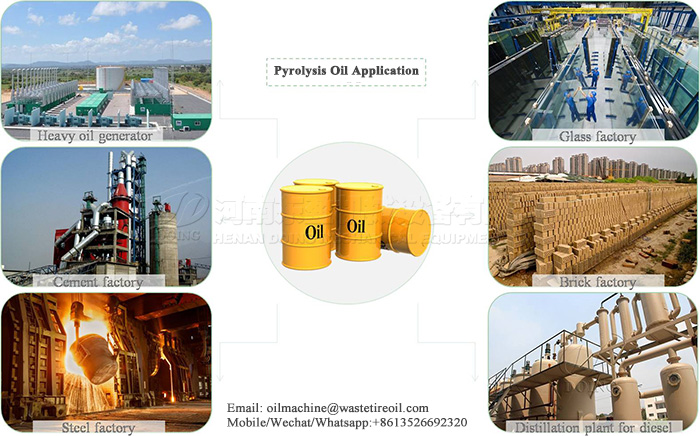 The main application of plastic pyrolysis oil
Plastic waste pollution is increasing now. Waste to energy industry has gained more focus from people. Because the waste plastic pyrolysis plant itself is green and eco-friendly, and it can also bring considerable rewards from the end products to the investors, therefore, it has become more popular in recent years.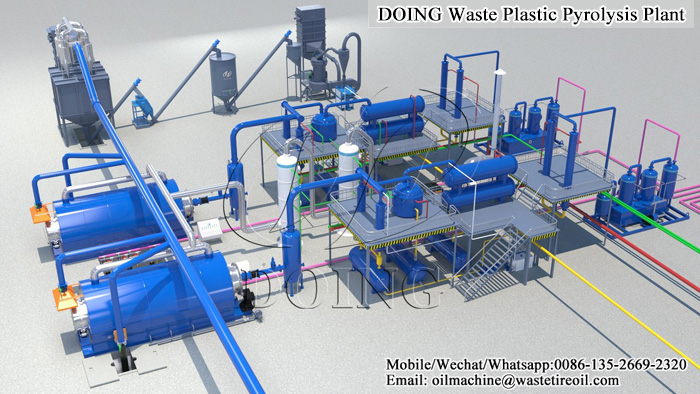 DOING waste plastic pyrolysis plant
DOING has designed latest waste plastic pyrolysis plant to help the waste plastic convert to fuels. We have waste plastic pyrolysis plant with different capacities, such as 1 ton, 6 ton, 10 ton, 12 ton, 15 ton, etc., also can be customized for customers according to their needs. Our waste plastic pyrolysis plant has its unique features that make it popular all over the world.
The main features of our waste plastic pyrolysis plant:
1. Safety:
1) Equipped with oil water separator, vacuum device and other safety devices, as well as automatic pressure relief valve, safety meter and so on.
2) Adopt automatic welding, professional heat treatment and X-ray inspection welding.
2. High automation:
1) Equipped with auto feeder, carbon black screw conveyor, etc. to save labor and time, improve efficiency
2) Equipped with electric control cabinet, automatic monitoring and control temperature
3. Environmental protection:
1) Using circulating water condensation, no waste water discharge
2) Purify the non-condensable gas with odor removal device to avoid the odor.
3) Treat smoke with dedusting device to control pollution discharge
4. High oil yield: adopt three-stage professional tube condensation system to ensure oil yield and product quality
5. Long service life: use Q245R boiler plate material with16mm thickness, high temperature resistance, corrosion resistance, to extend the service life
6. Good After-sale service:
1) Provide after-sales machine installation, debugging, training services
2) Provide 1 year warranty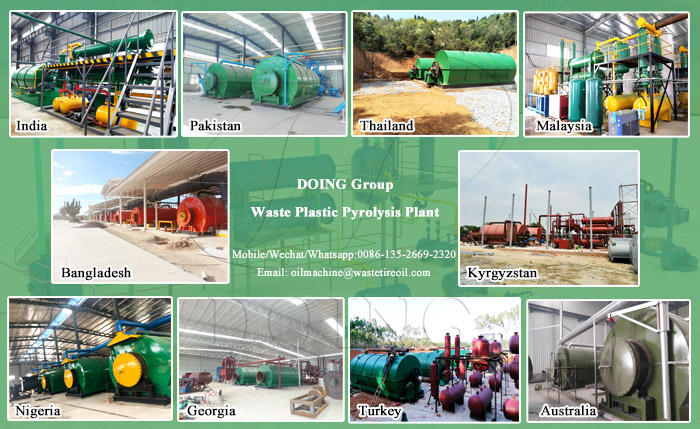 DOING waste plastic pyrolysis plant project sites in some countries
Till now, DOING has sold our waste plastic pyrolysis plant to Mexico, Nigeria, Egypt, Ukraine, Turkey, Macedonia, Romania, Albania, Serbia, Philippines, Malaysia, Indonesia, Colombia, Sri Lanka, Vietnam, Peru, Guatemala, Panama, Tunisia, Guinea etc. Our considerate service is highly appreciated by foreign governments and customers. DOING promises we have and always will serve customers with high quality equipment. If you have interest in waste plastic pyrolysis plant, please contact us!