How much cost need to make tyre pyrolysis plant? There are many people pay attention to this problem. Today this article is mainly for everyone to solve the doubts of this problem.
The cost of making tyre pyrolysis plant cannot be just from the price of tyre pyrolysis plant. It is composed of several parts: raw material cost, land cost, operating cost, equipment cost.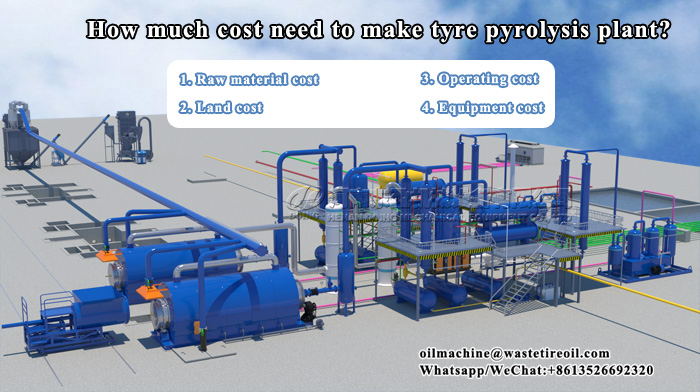 Cost of making tyre pyrolysis plant
1. Raw material cost
The cost of raw materials refers to the price of waste tyres. The price of waste tires in different regions is different, so before investing, it is recommended to check the price of waste tires on the local market.
2. Land cost
When you want to invest in this equipment, you can choose to rent or buy land, you can build a complete workshop, or you can just build a simple steel structure roof, which is determined according to the your budget.
3. Operating cost
One unit tyre pyrolysis plant needs 2-3 workers to operate, power consumption is 20 kw/h. In addition to the exhaust gas can be used to heat the machine which will save more than half of the fuel, but every day need an additional 500 kg of fuel oil as a fuel, generally customers use the produced tyre oil as fuel, don't have to go to the market to buy fuel, if the price of local natural gas or coal is cheaper than fuel oil, then you can also choose natural gas or coal as fuel. Tyre pyrolysis plant uses recycling water for cooling, so almost no consumption.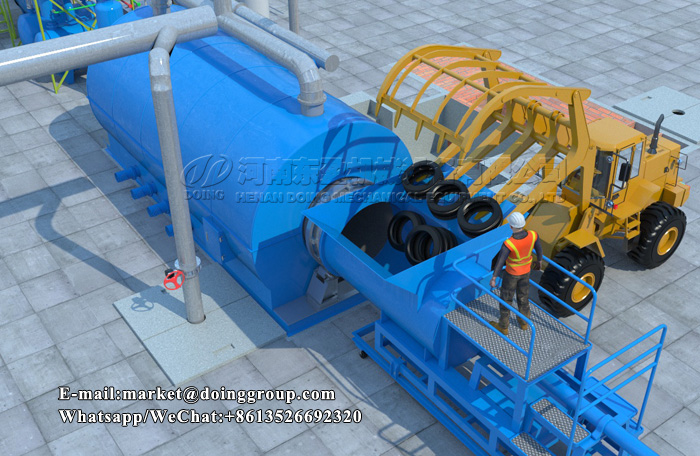 Operating tyre pyrolysis plant
4. Equipment cost
The equipment cost includes the price of basic configuration and optional configuration. A set of basic configuration of tyre pyrolysis plant is a production line for producing tire oil. However, in recent years, more and more countries have paid attention to environmental protection, so our company is constantly development design some optional environmental protection configurations, such as exhaust gas deodorization device, carbon black collection device, dust removal device, etc., as well as safety devices and automation devices, such as negative pressure system and automatic feeding machine, which can ensure the safety of equipment operation and save labor. Therefore, the basic configuration plus different optional configurations will have different prices. The higher the configuration, the higher the price, which is also determined according to the customer's budget. Some countries or regions where environmental protection is not strict and labor is cheap can choose low-configuration tyre pyrolysis plant. Some countries with high environmental protection and high labor cost are recommended to choose high-configuration tyre pyrolysis plant.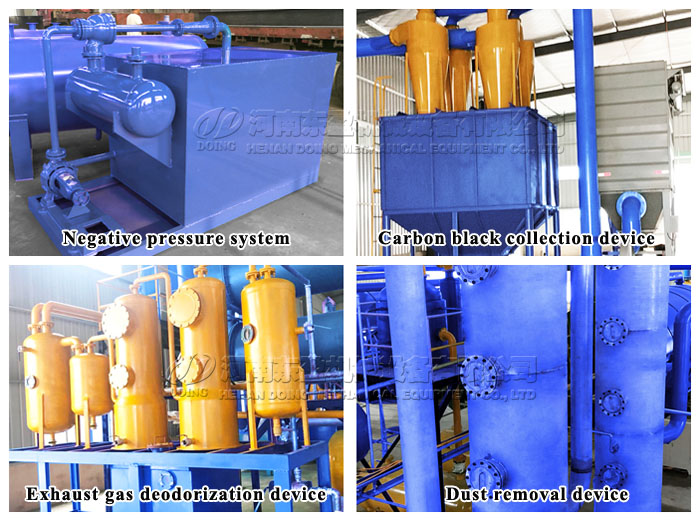 High-configuration parts of tyre pyrolysis plant
Through my introduction, I believe that you probably know how to calculate the cost of making tyre pyrolysis plant. From these several parts, some parts need to do the local market investigation, some parts need to consult tyre pyrolysis plant manufacturers to obtain a better suggestion. When investigating the market, you also need to investigate the market price and sales of by products, such as tire oil, carbon black and steel wire, so that you can calculate your own profit according to the cost of tyre pyrolysis machine and the sales price of the by product, then you will make a clear decision whether to make tyre pyrolysis plant.
I hope this article can help you who are confused about the cost of making tyre pyrolysis plant. If you want to know more, please contact us.