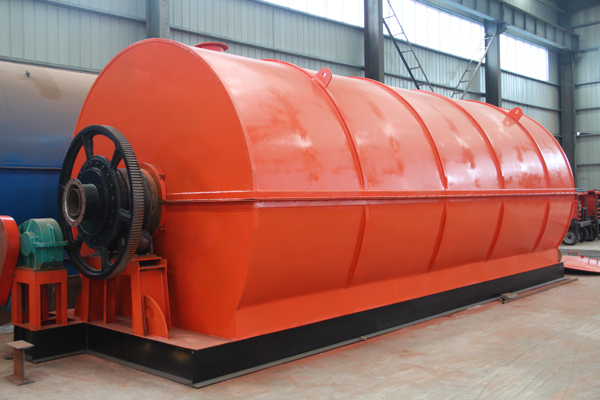 Pyrolysis reactor
A pyrolysis reaction is a reaction process in which a substance is decomposed by heat. Many inorganic and organic substances are decomposed when heated to a certain extent. Pyrolysis reactions are used in many fields depending on the temperature. According to the temperature, we can classify pyrolysis into three different pyrolysis methods: high, medium and low. Today we are talking about medium temperature pyrolysis. The pyrolysis temperature is generally between 600 and 700 °C. It is mainly used to compare the energy and resource recovery of a single material, such as the process of converting waste tires and waste plastics into heavy oil-like materials. In different fields, pyrolysis technology applies different temperatures and uses different pyrolysis processes. So how do we make a pyrolysis reactor? To adapt to the temperature requirements of the equipment, so that the equipment can play better performance?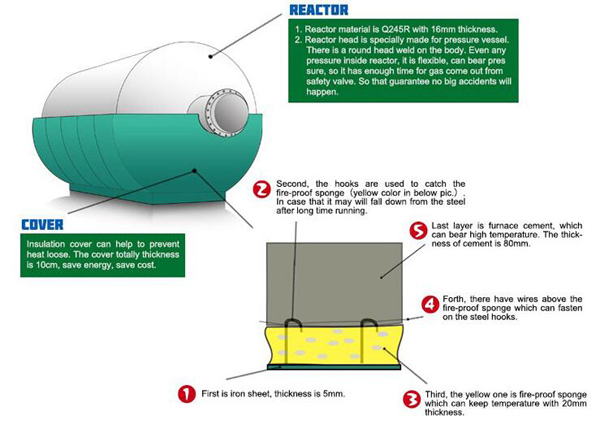 Pyrolysis reactor structure
DOING company pyrolysis reactor design is made strictly according to the standard of pressure vessels(boiler grade).The round-shape reactor head has very strong tension and good connection with the reactor body, thus could not be cracked under high pressure and high temperature. The pyrolysis reactor material could be made from Q245R and Q345R boiler plates or 304 and 306 stainless steel. The thickness of the whole reactor is normally 16mm.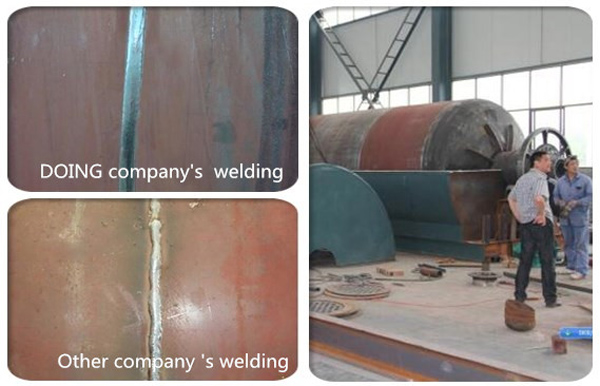 Pyrolysis reactor welding compare
The reactor is very important,and the welding is also very important,our pyrolysis plant use auto-welding machine,and theen we will use our X-ray machine to test the welding,id there is any small hole,we will reweld it.All the other factories are welding the machine by workers,it could not gurantee the sealing and this oepration is dangerous.
The welding of our pyrolysis reactor adopts 3-steps welding process, spot welding first, then make a groove like the one showed in the right picture for better

auto-welding.
Our pyrolysis reactor adopts small gear transmission. Compared with big gear transmission, small gear cannot be easily deformed. The gear will be fixed on the oil output pipe there will be some gap between gear and reactor, so only little heating energy will be transferred to the gear and also there are some heating releasing holes on the gear which will not be out of shape easily.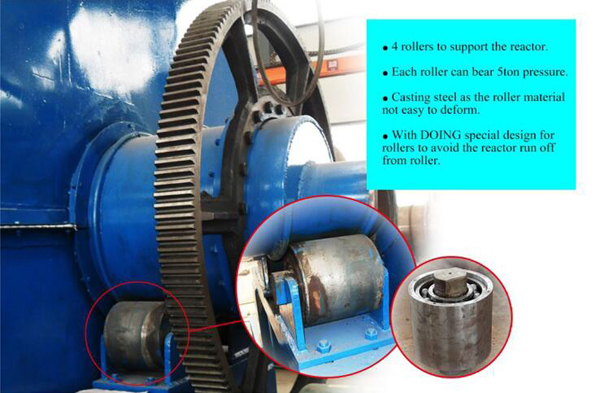 Pyrolysis reactor's roller
Another pyrolysis reactor design is the supporting roller. Even though the roller is small, but it is the core part of pyrolysis plant. There are totally 4 rollers to support the pyrolysis reactor. Take capacity 10T pyrolysis plant for example, the weight of naked reactor is about 10T, after feeding 10T waste tyres ,the whole system will be 20T. It means these 4 rollers have to bear 20T weight. If one roller breaks, the whole system will stop working. So the roller must be strong enough. That is why we choose casting steel as the roller material ,as casting steel is not easy to deform.
How to make a pyrolysis reactor? Through our high standard design requirements, and the leading technology in the pyrolysis plant industry, the pyrolysis reactor can not only ensure the safety of your operation, but also have a long service life, more about how to make pyrolysis reactor?Please feel free to contact us ,for technical problems about how to make a pyrolysis reactor!