Every year, we will produce a great number of used motor oil or engine oil which can contaminate 1 million gallons of fresh water – a year's supply for 50 people. Just one quart of used oil can produce a two-acre slick. But do you know there is a way that you not only can dispose of these used motor oil properly, but also can make money from waste. That is disposing of used motor oil by waste oil refinery plant to get diesel fuel and asphalt.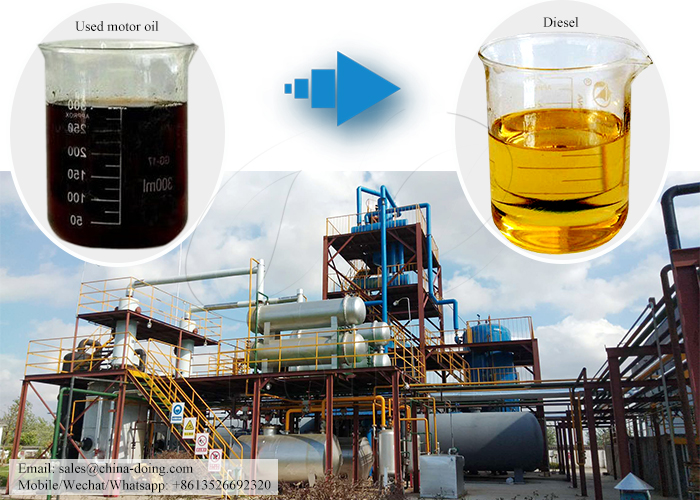 Getting diesel fuel by waste oil refinery plant
5-10T Waste Oil Refinery Plant Introduction
Costs
Heating fuel
Fuel oil: 500kg/day or gas:150m3/day
Electricity
24.5Kw/h
Water
No consumption (for recycle use)
Chemical catalyst
About USD100/day
Workers
1-2 workers per shift
Final Products
Diesel
85% output
Asphalt
10% output
From the form above, you can know the cost and the source of profits of waste oil refinery plant. I will give you an approximate amount general of profits that you can obtain from 10t waste oil refinery plant.
ROI Analysis For 10T/D waste oil to diesel refining plant
Running Cost / Day
Waste engine oil
10Ton * USD265/Ton = USD2650
Heating fuel (Diesel)
0.6Ton * USD700= USD420
Catalyst
USD100
Electricity
USD60
Water
Water is for circulation use, no consumption
Worker
2 * USD25 = USD50
Income / Day
Diesel
8.5Ton * USD700 = USD5950
Oil sludge (Asphalt)
1Ton * USD200 = USD200
Profit / Day
USD2870
So you can definitely make profits from used motor oil by using waste oil refinery plant. The diesel fuel can be used as alternative fuel in diesel burners, generators, heavy machinery and agricultural machinery, etc. And asphalt can be used to paving or get further refinery in asphalt plant. If you have a great number of used motor oil to dispose, welcome to contact with us for more information of waste oil refinery plant.