On June 27, 2019, three customers came to our company to inspect the waste tire pyrolysis plant, two Indian engineers, and a Chinese Singaporean marketing manager. Their company is a company specializing in renewable energy. Their parent company is in Singapore, mainly engaged in the manufacture of biomass fuels, and also provides energy recovery solutions for other companies. The subsidiary is located in Malaysia and is mainly engaged in the retreading of used tires. The purpose of this visit is to build a tire pyrolysis project in Malaysia, which is located next door to their tire refurbishment factory.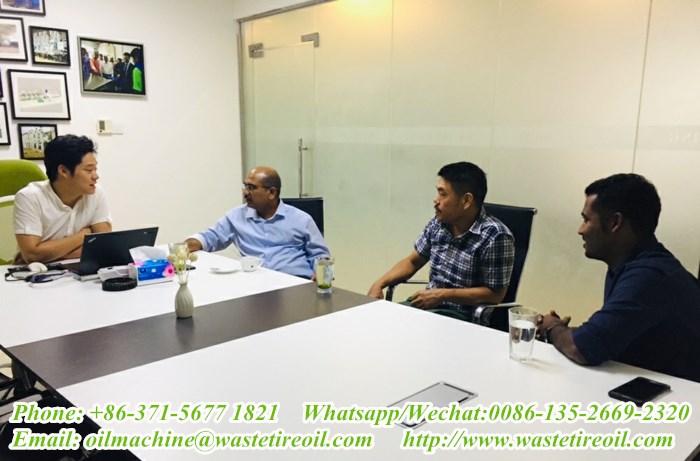 The customer talking with our manager with our manager in our office
They have a large number of used tires in their factory in Malaysia, they retread some tires which are not very worn, but there are still a lot of tires that are totally worn. Therefore, the customer's raw materials are sufficient and the cost is relatively low. In addition, customers need to purchase nearly 200 tons of carbon black every month for their tire rereading, which is very expensive. The customer learn that the waste tire pyrolysis plant can not only produce fuel oil, but also good quality of carbon black. The carbon black produced can be directly used by customers in their own factories, which can create very substantial economic benefits. The second is fuel oil, customers are intend to sell this fuel oil to the glass factory nearby. Steel wire can be sold to steel factory nearby. The client made a very detailed investigation of this tire pyrolysis project before coming, and was very confident to it.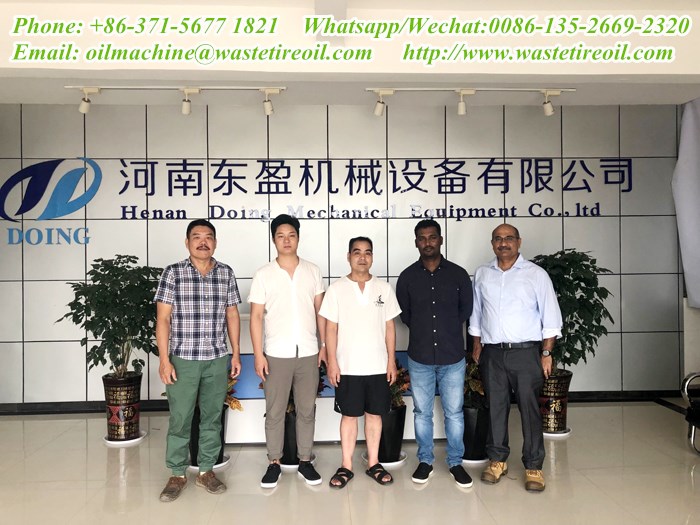 The customer at the reception area of DOING factory
Indian engineers have been engaged in mechanical design for more than 20 years and have rich experience in this field. They spent long time in our factory, the engineers paid great attention to the manufacturing details of the equipment, such as welding process and precision, and very satisfied with our equipment after that. Engineers were also cares about the safety of the equipment, and he is very satisfied with the design of our reactor and the design of safety equipment.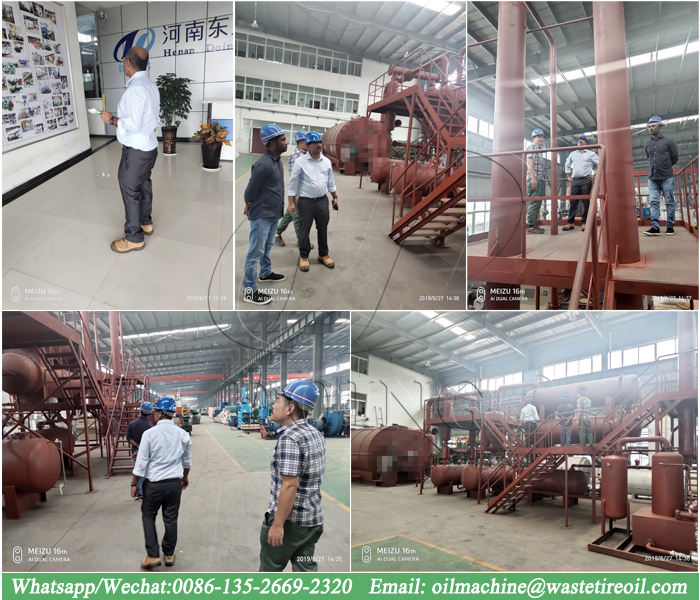 The customers check every detail of pyrolysis plant in our factory
Customers have returned to Singapore, they will report the results of this visiting to their boss, I believe that we will become a stable partner in the near future.