Waste tire to oil plant keeping leading in domestic and overseas market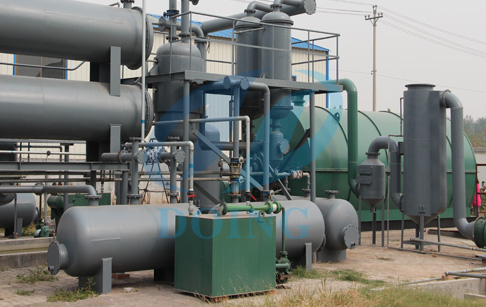 Waste tire to oil plant
With more and more people pay attention to environmental protection, Doing machine waste tire to oil plant keeping leading in the oil refining market. The waste tire to oil plant have a lot of main feature:high capacity ,high degree of automation ,high quality,environmental and efficient,can live longer .With the development of industry ,countries stepped up environmental governance,especially for waste disposal.Doing waste tire to oil plant can put this waste turn into wealth .The waste tire to oil plant can handle :
rubber categories: car tires, truck tires and other vehicle tires, cables skin, all rubber-based products
Plastic: PET, PVC, nylon, foam, plastic film, plastic products,
garbage Oil categories: waste oil, black oil, gear oil
Oil refining equipment can converted this waste into fuel, and carbon black, these fuels can be applied to glass factory , steel factory, power plants, boiler plants and so on.
Carbon black can be applied to industrial rubber products, Rubber track, rubber shoes.