As the modernization of society, countries are creating a mass of waste tires every day. Without knowing the appropriate way to deal with waste tires, many countries burn or landfill them before. Over time, they found that although burning and landfilling disposed of waste tires, they also caused a lot of pollution to the environment. So, pyrolysis, as a green technology, is a new way to recycle waste tires, which has attracted many governments and companies to research. Doing group, a world leading manufacturer of waste tire pyrolysis plant, has more than ten years experience in this industry. Today, we will show you how waste tire pyrolysis plant can recycle waste tires efficiently.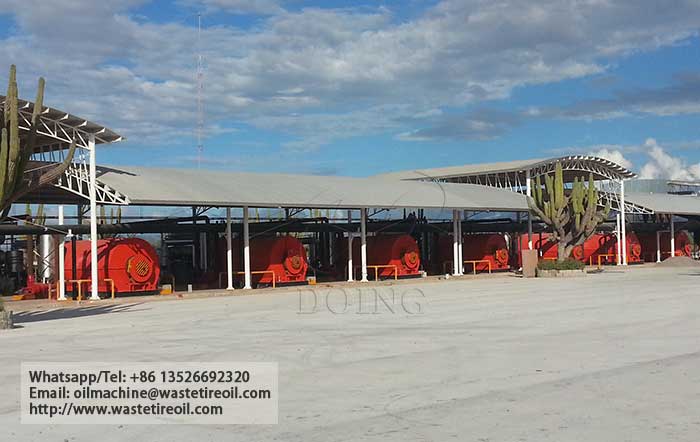 Waste tire pyrolysis plant
♣ Pyrolysis Technology

Pyrolysis technology process
Waste tires are made of hydrocarbon polymers. During pyrolysis, the long-chain polymers break down into small polymers which are mixed into fuel oil. Another end product are carbon black and light gas which can be recycled to heat the pyrolysis reactor. And if you don't pull out steel wire from waste tires at the beginning, you will get steel wire, too. Hence, the end product includes 40-45% pyrolysis oil, 30%-35% carbon black, 15% steel wire and 10% light gas, and no other waste is discharged and no environmental pollution is caused.
♣ Pyrolysis Oil and Applications
Pyrolysis oil is a very good heating fuel with a calorific value of 10,592.45Kcal/kg, which is much higher than coal and has a good market in all countries. It is widely used in boiler plant, cement plant, brick plant, glass plant, heavy oil power plant, etc. It can also be refined into diesel oil by waste oil distillation plant.

Pyrolysis oil applications
♣ Waste Tire Pyrolysis Plant
Through waste tire pyrolysis plant, we can complete the whole pyrolysis process and acquire pyrolysis oil, carbon black, light gas and steel wire. Doing company can produce both batch type and continuous type waste tire pyrolysis plant, we are also one of the minority companies with mature technology of producing full continuous waste tire pyrolysis plant. Continuous type is suitable for large projects, because it can process 50t of waste tires per day, and the continuous type will run for nearly 2 months without stopping, so the continuous type is more efficient and labor saving.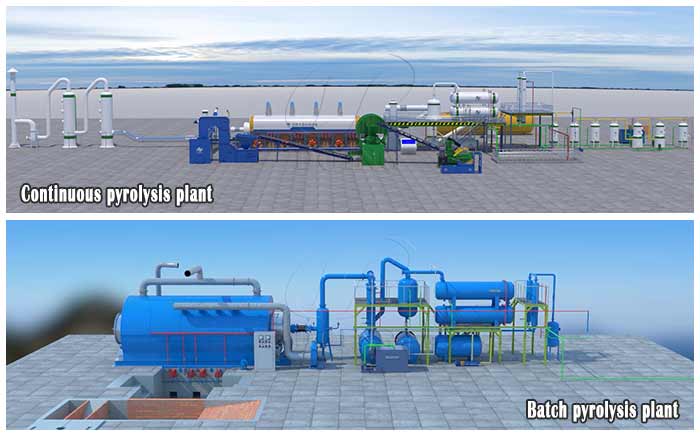 Continuous pyrolysis plant vs batch pyrolysis plant
If you can't collect so many waste tires per day, we also have the latest design batch pyrolysis plant, which can process 10/12/15t of waste tires per day, our latest design batch pyrolysis plant is also very efficient, we have improved a lot in the previous design, so that the cooling efficiency and slag out efficiency of the equipment have been greatly improved, and promise to process a batch of waste tires in one day.
In summary, pyrolysis technology is a very environmentally friendly and efficient way to recycle waste tires, if you are interested in waste tire pyrolysis plant project, please contact us directly.