Used engine oil recycling machine for sale can produce diesel oil with the used engine oil, used motor oil, used lube oil, tire or plastic pyrolysis oil as materials.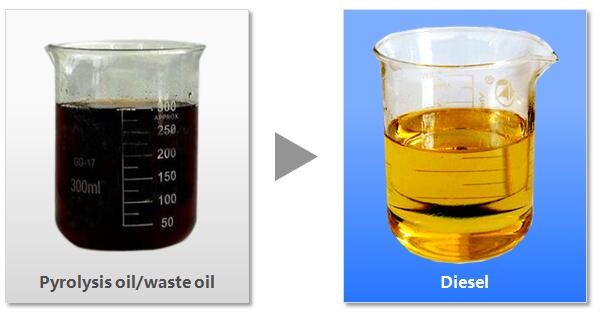 Used engine oil recycled to diesel
As we all know, used engine oil is mainly from the replacement of hundreds of millions of automotive lubricants, as well as the replacement of machine tools in industrial production lines. The amount of used engine oil produced when changing the oil is huge. Only taking the replacement volume of Chinese automobile used engine oil as an example, a car is maintained twice a year on average, and each time it is repaired, 4L of used engine oil is replaced. Nearly 10 million tons of used engine oil will be produced every year in China.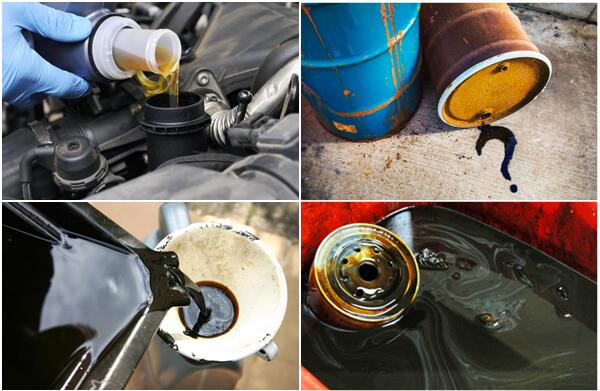 Used engine oil everywhere
To reuse such huge used engine oil resources, DOING Company has designed an environmentally friendly machine to dispose of used engine oil through extensive research and development. That is used engine oil recycling machine for sale.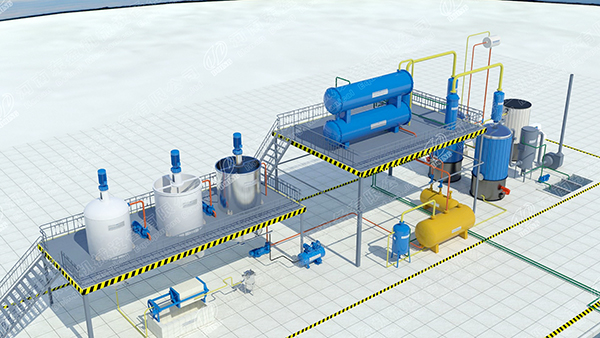 DOING used engine oil recycling machine for sale
So what is the principle of used engine oil recycling machine for sale?
1. Production of used engine oil
Used engine oil is usually mixed with oil in the process of using water, dust or debris, resulting in darkening of the color and viscosity. Also, the oil gradually deteriorates during use, resulting in organic acids, colloids and asphalt. Substances can cause used engine oil to be produced.
2. How to deal with this used engine oil
The recovery and recycling of used engine oil is to remove impurities from the oil by sedimentation, distillation, catalyst, filtration, etc., and decompose the polymer organic matter into small molecular gas under the action of pyrolysis, thereby producing light oil gas, and then cooling it into light oil. Finally, through the catalysis to light oil, decolorization and deodorization, the diesel fuel is produced.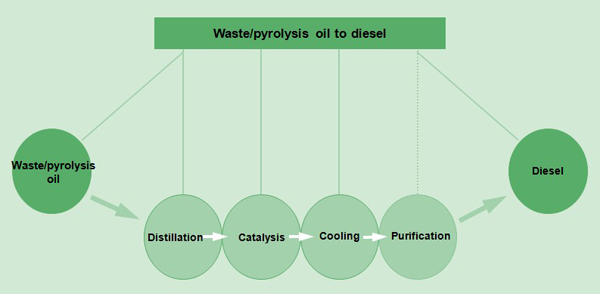 Used engine oil to diesel technology
3. The environmental impact of used engine oil recycling machine for sale
The used engine oil recycling machine for sale from DOING Company takes into account the environmental protection requirements while taking into account the improvement of the used engine oil recovery rate. We equip special dedusting device, tail gas cleaning system, water circulating system, etc and can satisfy customers in recycling used engine oil without secondary pollution.
The working process of used engine oil recycling machine for sale
First of all, put the waste engine oil in the used engine oil recycling machine for sale for further process;
Secondly, heat engine oil in non-oxygen environment, which will start to boil and evaporate,
Thirdly, put those vapors through a cooling pipe and the vapors will condense to liquid , while some of the vapors with shorter hydrocarbon lengths will remain as a gas.
Fourthly, the exit of the cooling pipe is then going through a bubbler containing water to capture the last liquid forms of fuel and leave only gas that is then burned;
Finally, this kind of oil will be piped into deep purifying system with acidity and alkaline cleaning device as well as pressure filtering system.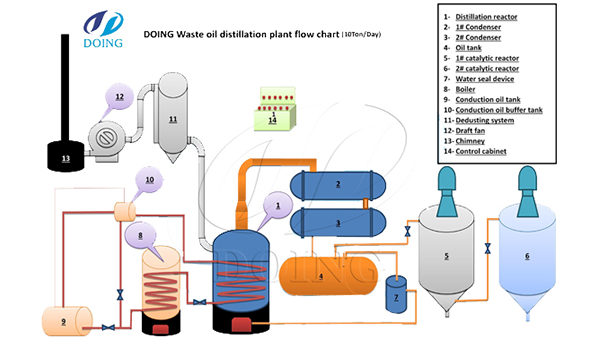 Used engine oil recycling machine process
Configuration of used engine oil recycling machine for sale:
1. Reactor: 4 reactor, each reactor has a different materials.
2. Heating way: wood, coal, crude oil, gas
3. Dust Removing System: water removing
4. Condenser: vertical condensers (water cooling function, improve the oil quality)
5.Safety device: Vacuum system
Three unique advantages of DOING used engine oil recycling machine for sale:
1. There are four reactors for the refinery machine. We heat the reactor indirectly by using the Boiler heating system to lengthen the life span of reactor.
2. Our machine operates in the vacuum environment to promote the rate of the oil yield and quality of oil.
3. There three steps to purify the oil to convert tyre oil to diesel that can be used to the tractors, trucks and diesel generator etc.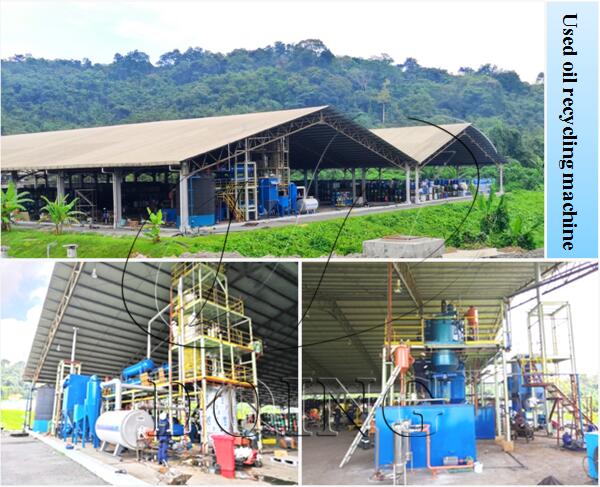 DOING used engine oil recycling machine installed in Malaysia