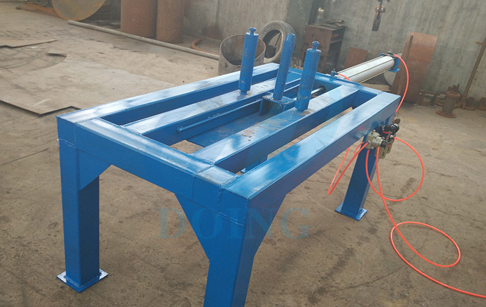 Tyre doubling&unpacking machine
Henan Doing Mechanical Equipment Co.,Ltd is a leading manufacturer specialized in waste tire /plastic/rubber recycling machine, waste tire & rubber pyrolysis plant, waste tire/plastic/rubber crude oil distillation plant and bio-diesel plant ranging from Research & Development, Design, Manufacturing to Installation & Commissioning.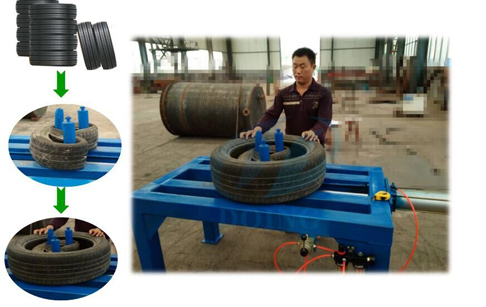 Tyre doubling&unpacking machine
With the fast development of pyrolysis project, we have design and produce tire doubling machine and tire unpacking machine. Tyre doubling machine can enlarge tire storage and transportation quantity.
This tyre doubling&unpacking machine is ideal for any workshop or used tyre dealer, used to double or undouble (unpack tyres). It is powered by compressed air only so there is no risk of electrocution. We recommend this tyre doubling&unpacking machinefor small workshops wishing to save space for storing or transport their scrap or part worn tyres. Due to its small dimensions and weight it is ideal for moving from one place to the other.

1. Easy operation and storage:
For some tyre dealers, they want to keep complete tyres for further use. So they don't want to cut tires for better storing and transport, then they can use the tyre doubling & unpacking machine to make several tyres nested together firstly. After transport, they can unpack the tyres to normal for further use.
2. Enlarge the tire quantity in different industries.

For some tyre pyrolysis factories, they want to fill as many tyres as possible inside the reactor for pyrolysis to oil. But as we all know that tyres contain steel wire which is difficult to press. This time you will need to use a tyre cutter to cut tyres into small pieces. But after cutting, the steel wire inside tyres will become small pieces mix with carbon black after pyrolysis process, which is difficult to separate. For tyre doubling machine, you can use it to make several complete tyres together, then put them into the reactor. It can not only save the plave, the steel wire inside tyres also can keep complete. After pyrolysis, the big steel wire can tangling together, which is easy to pull out by a hook.
3. Energy Saving
This tyre doubling/unpacking machine doesn't need electricity to work. It powered by compressed air. which can save so much energy.
4. Long service life
The materials of steel are produces by Chinese well-known enterprise. All cutting and welding works are finished by automatic machines. We know quite well about the material quality and manufacturing process, that's why we are confident in the service life of our products. We also supply installation service, training service and one year warranty.