Our world desires for energy as a baby desires mother. We consume large number of oil every day in the world. Large number of co
2,
acid rain, and all kinds of toxic gas are produced to the air. The global is becoming more and warmer. We face a serious situation of our world.pyrolysis plant to convert the plastic to oil is a good way to relieve the situation. Science and technology are developing when the environment of the world is becoming worse and worse. Technology of converting waste plastic/tire to oil which is called pyrolysis plant is born to deal with the waste plastic and waste tire. We call the machine pyrolysis plant.The pyrolysis plant is clear to the environment and generate curde oil.
We ,henan doing mechanical equipment co,ltd are one of the leader company of pyrolysis plant supplier and manufacturer. Established ourselves as one of the leader of various types of pyrolysis plant, tire recycling plant, scrap plastic recycling plant. We exported the products to more than 20 countries. And we have gained huge reputations from our customers for the reliable operations of the pyrolysis plant. Success belongs to who stick to the truth. We achieved our status with more than 15 years total commitment and continuous improvement and introduction of new products.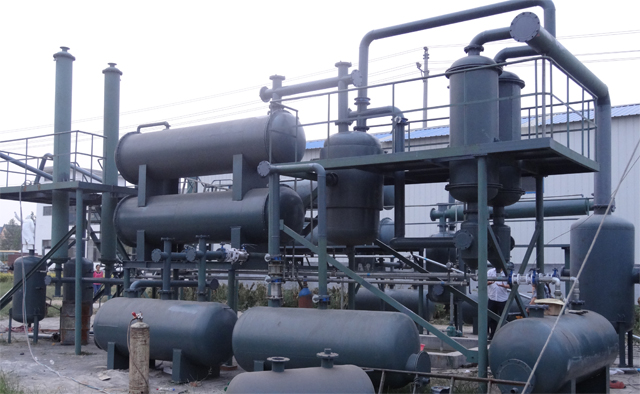 The pyrolysis plant manufactured by us all gain ISO9001 certification. And CE certified to manufacture pyrolysis plant. We exported our products to more than 20 countries. Technican from our company sent to local to direct to establish facilities for the waste tire pyrolysis plant more than 200 plants.Especiallly recent years we made great improvement for our pyrolysis plant to ensure higher yield of oil and more efficiency. Strict pollution produced policy is adopted to meet our audit.

We have a well-equipped infrastructure unit with a factory covered 20000 square meters, advanced technology based machines with more than 40 professional engineers with abundant experience with good education. We have professional sales team to serve every customer. Professional, eager to make progress, consistently improving working skills, are the key to success in the competition market.Strong ability to research and develop from the university enables us to design top engineering machine.

Mechanical engineering department is established in2006 to manufacture and maintains our pyrolysis plant. As a responsible exporter we have project management team to design the project report for every project overseas. Every set of pyrolysis plant is sold there will be a technican with the customer to train the works guide the installation. Chemical engineer will guide the process in detail to ensure safety and introduce the principle. Every pyrolysis plant manufactured is seriously audited to ensure high standardized production (mainly pyrolysis plant). Quality control department is the key department of our factory. Professional customer care and safe service department established to be an excellent team to serve the customer. widely and advanced technology support from the lab in the university to strengthen our ability to innovate and design more reasonable plant. We have patent technology to design stylish machine which is more efficiently and energy saving, In other words it is more profitable.
Technical parameter of 5th generation waste tire/plastic recycling machine
 
Items
Contents
1
Equipment type
DY-1-6
DY-1-8
DY-1-10
2
Raw material
Waste tyre
Waste tyre
Waste tyre
3
Structural form
Horizontal rotation
Horizontal rotation
Horizontal rotation
4
24-hour Capacity
6 ton
8 ton
10 ton
5
Oil yield
2.7-3.3ton
3.6 -4.4ton
4.5 -5.5ton
6
Operating pressure
Normal
Normal
Normal
7
Material of pyrolysis Reactor
Q245R
Q245R
Q245R
8
Thickness of pyrolysis Reactor
16mm
16mm
16mm
9
Rotate speed of pyrolysis Reactor
0.4turn/minute
0.4turn/minute
0.4turn/minute
10
Total power
19KW
19KW
19KW
11
Mode of cooling
Water cooling
Water cooling
Water cooling
12
Cooling area of condenser
100sqm
100sqm
100sqm
13
Kind of transmission
Internal gear drive
Internal gear drive
Internal gear drive
14
Noise dB(A)
≤85
≤85
≤85
15
Size of Reactor(D×L)
2200×6000
2200×6600
2600×6600
16
Working form
Intermittent operation
Intermittent operation
Intermittent operation
17
Delivery time
20days
20days
20days
18
Weight
27T
30T
35T