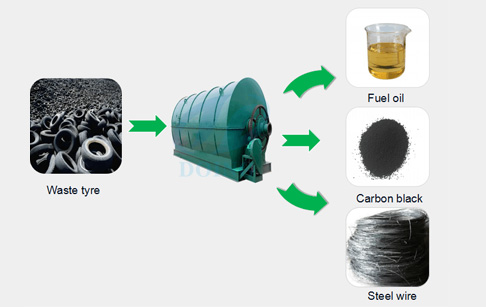 Used tyre pyrolysis plant
Doing group produced used tyre pyrolysis plant with lower cost and higher fuel oil output can convert waste tyre to fuel oil ,carbon black and steel wire.
Used tyre pyrolysis plant application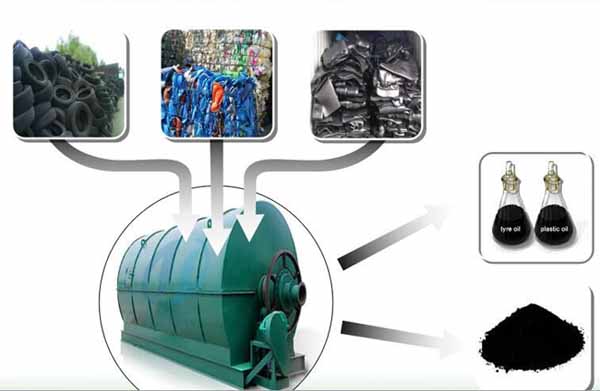 Used tyre pyrolysis plant application
1.Waste tire /tyre
2.Waste plastic
3.Waste rubber
Used tyre pyrolysis plant working process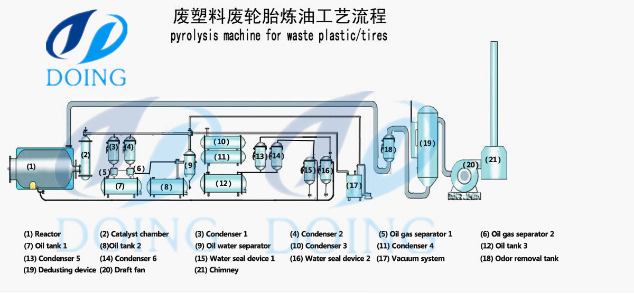 Used tyre pyrolysis plant
The used tyre pyrolysis plant is to feed the raw materials, such as tyre and plastic, on one side and discharge the carbon black continuously from the other side. the batch type is to feed the pyrolysis plant with a batch of raw material and take the process and start the next process after cooling down the

pyrolysis plant

and discharging the carbon black.
1. The complete set of unit produces no smoke and smell with favorable effects of environmental protection.
2. The pressure release device operates through water circulation, which greatly improves the security of the system.
3. The release of pressure during the production dramatically increases the output within certain time and meanwhile improves the quality of oil.
4. The heating system adopts hot air heating technology, which improves the safety performance of production and heating efficiency.
5. High efficiency fuel gas heating system. When the heated gas reaches 150 during refining, a large amount of gas will be generated: through methane to butane
6.Whole tyre feed, no need to break, which reduces cost.
Used tyre pyrolysis plant technical data
Technical parameter of used tyre pyrolysis plant

No.

Items

Contents

1

Equipment type

DY-1-6

DY-1-8

DY-1-10

2

Raw material

Waste tyre

Waste tyre

Waste tyre

3

Structural form

Horizontal rotation

Horizontal rotation

Horizontal rotation

4

24-hour Capacity

6 ton

8 ton

10 ton

5

Oil yield

2.7-3.3ton

3.6 -4.4ton

4.5 -5.5ton

6

Operating pressure

Normal

Normal

Normal

7

Material of pyrolysis Reactor

Q245R

Q245R

Q245R

8

Thickness of pyrolysis Reactor

16mm

16mm

16mm

9

Rotate speed of pyrolysis Reactor

0.4turn/minute

0.4turn/minute

0.4turn/minute

10

Total power

19KW

19KW

19KW

11

Mode of cooling

Water cooling

Water cooling

Water cooling

12

Cooling area of condenser

100sqm

100sqm

100sqm

13

Kind of transmission

Internal gear drive

Internal gear drive

Internal gear drive

14

Noise dB(A)

≤85

≤85

≤85

15

Size of Reactor(D×L)

2200×6000

2200×6600

2600×6600

16

Working form

Intermittent operation

Intermittent operation

Intermittent operation

17

Delivery time

20days

20days

20days

18

Weight

27T

30T

35T
Prepared by customer about used tyre pyrolysis plant

No.

Item

Consumption

1

Coal(for choice)

500kg/day

2

Wood(for choice)

800kg/day

3

Natural gas(for choice)

100-150kg/day

4

Oil(for choice)

300-350kg/day

5

Electricity

244kwh/day

6

Water(recycled)

60�?nbsp;/month

7

Total power

19kw

8

Land area

35m*15m
Used tyre pyrolysis plant final product application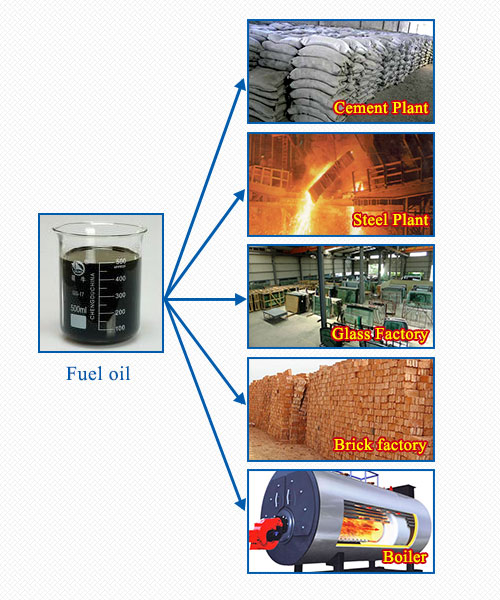 Used tyre pyrolysis plant final product application
Fuel oil from waste tyre are used in below industries
A.power plant factory
B.glass factory
C.cement factory
D.ceramic fatory
E.aluminum factory
F.boiler factory
G.central heating factory
H.painting factory
1.A. Waste plastics, Used bottles,used tyres, used bags, farming waste , other
B.Medical waste
C.oil sludge , waste oil ,black oil ,oily solid
D.other living waste