3D drawing of DOING waste plastic and tyre pyrolysis plant
DOING manufactures and offers the leading eco-friendly and cost-effective waste plastic and tyre pyrolysis plant with the world class design and technology. Hennan DOING has never stopped to develop the pyrolysis plant and experienced a lot of researches and experiment. At the moment, DOING has already designed the waste plastic and tyre pyrolysis plant with lower cost and higher fuel oil output.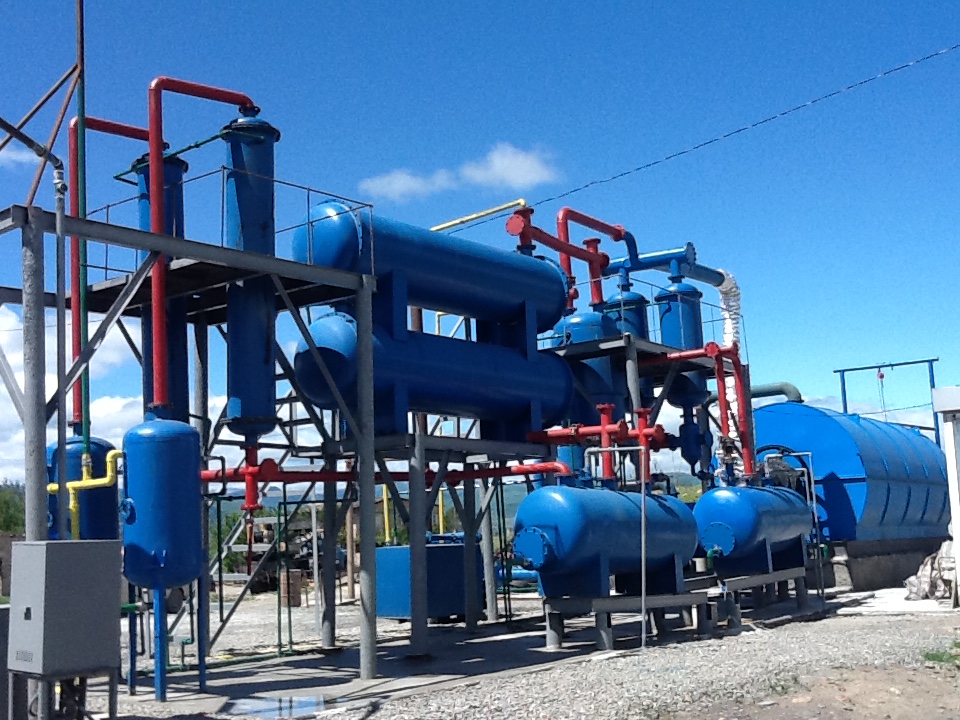 Waste plastic and tyre pyrolysis plant
The waste plastic and tyre pyrolysis plant is a green technology to solve tire and other environment pollution which are becoming the serious issues nowadays and it is the meaningful industry. The main parts of whole pyrolysis system includes reactor, transmission device, catalytic chamber, cooling tube, manifold, heavy oil tank, light oil tank, oil condenser, oil-water separator, safety device, vacuum system, dedusting system, etc. All parts of waste plastic and tyre pyrolysis plant are manufactured with superior quality materials and advanced technologies, so DOING can promise that the quality is guaranteed. Therefore, DOING waste plastic and tyre pyrolysis plant is one of the most popular machine for environment protection and in great demand in the world.
Working process of waste plastic and tyre pyrolysis plant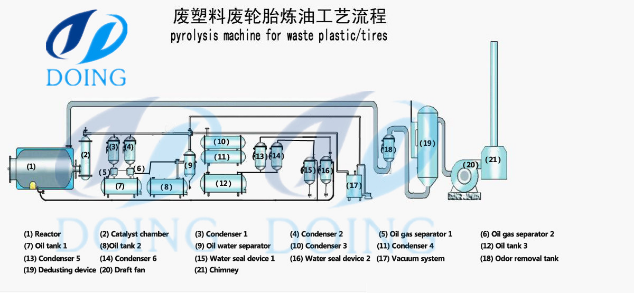 Working process of waste plastic and tyre pyrolysis plant
→Use auto feeder load compete tires into reactor directly, 2 hours
→ Put wood/coal/natural gas/fuel oil into fire furnace make fire, warm up reactor, last 3-4hours
→ After that oil gas will come out, last 10-12hours
→ Cooling down reactor, 1 hour
→ Discharge carbon black, 1 hour
→ pull steel wire out, 1 hour
Raw materil & oil ratio of waste plastic and tyre pyrolysis plant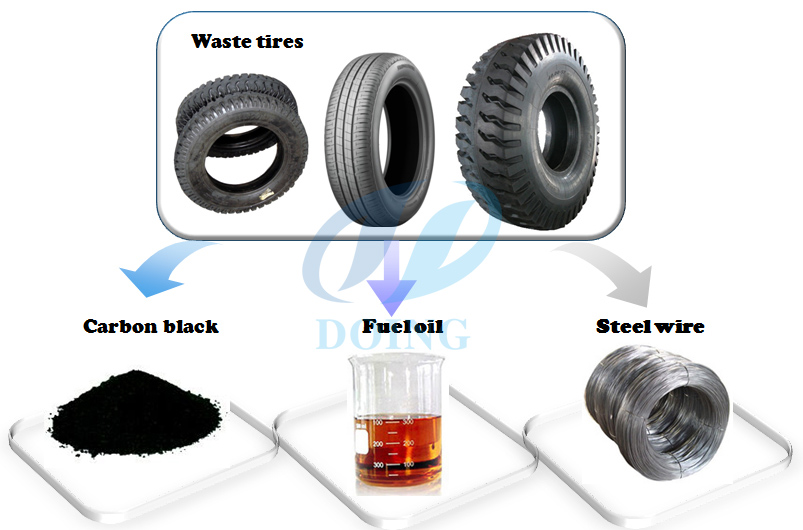 Raw material of waste plastic and tyre pyrolysis plant
Oil ratio of diferent raw material
| | |
| --- | --- |
| Raw material | Oil ratio |
| Steel wire tyre | 45-52% |
| Nylon tyre | 40% |
| Bicycle tyre | 35% |
| Off--road tyre | 60% |
| Truck tyre | 75% |
Advantage of waste plastic and tyre pyrolysis plant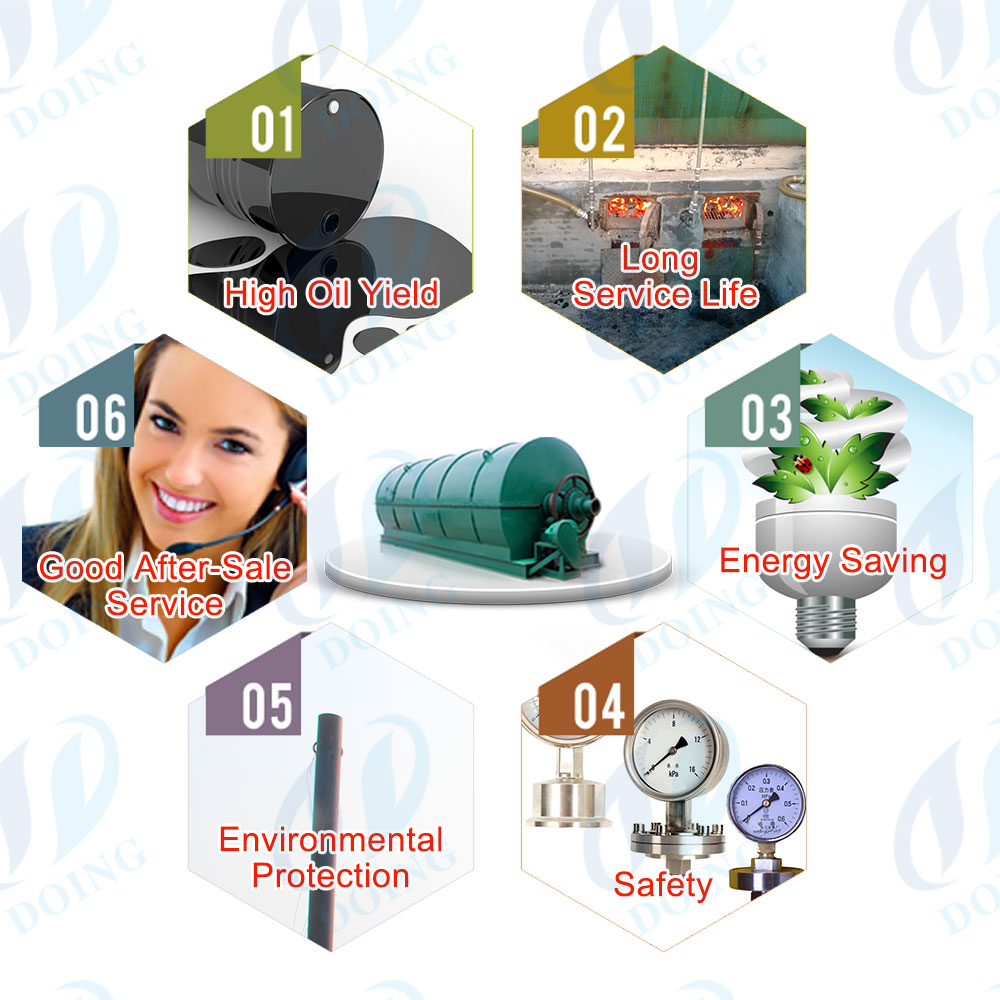 Advantage of waste plastic and tyre pyrolysis plant
1. Safe
The waste plastic and tyre pyrolysis plant is equipped with mature safety devices, such as alarm for over temperature and pressure, auto pressure releasing system, extra gas recycling system and fire fighting device, which will guarantee 100% safety in the pyrolysis process.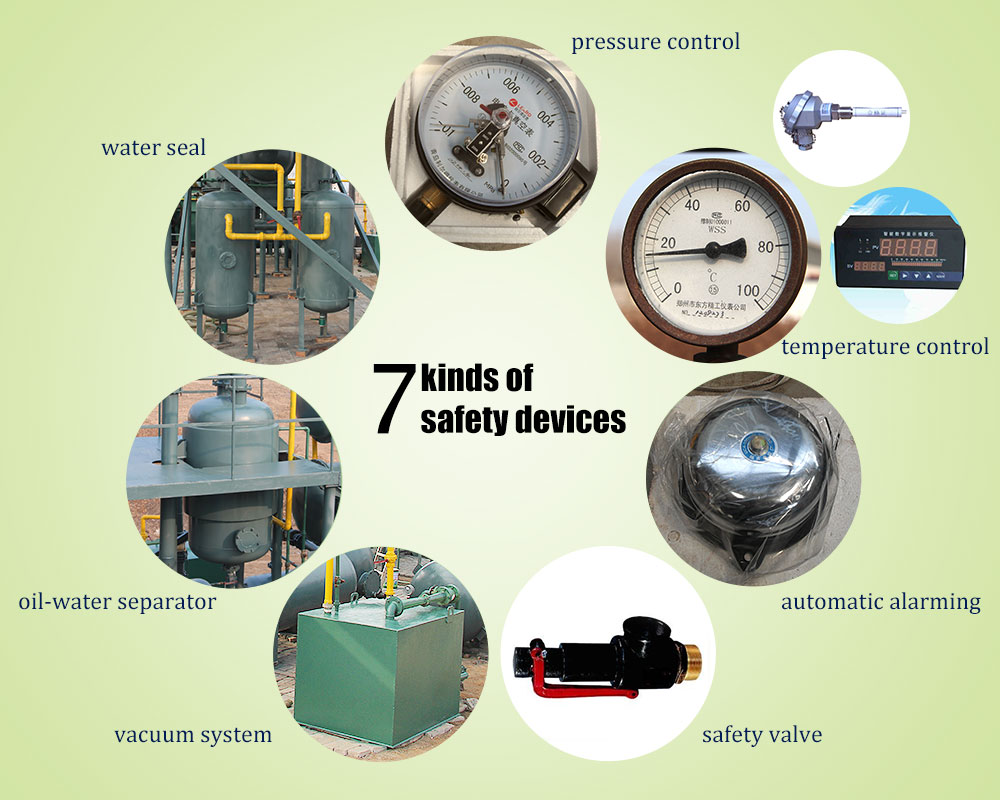 Safety devices
2. Energy-saving
By the extra gas recycling system, the gas that can not be condensed will be recycled to the burning room. It can replace the fuel material to heat the reactor, which will reduce additional fuel consumption.
3.High oil yield. Waste plastic and tyre pyrolysis plant cooling systems decides oil output. There are two steps for cooling. Cooling pipe is the first step. The second is condenser. Its inner have 61 pipes in one condenser. The total cooling area is 100㎡. This will guarantee you a high oil yield. The reasonable design can ensure the high oil output of the pyrolysis plant.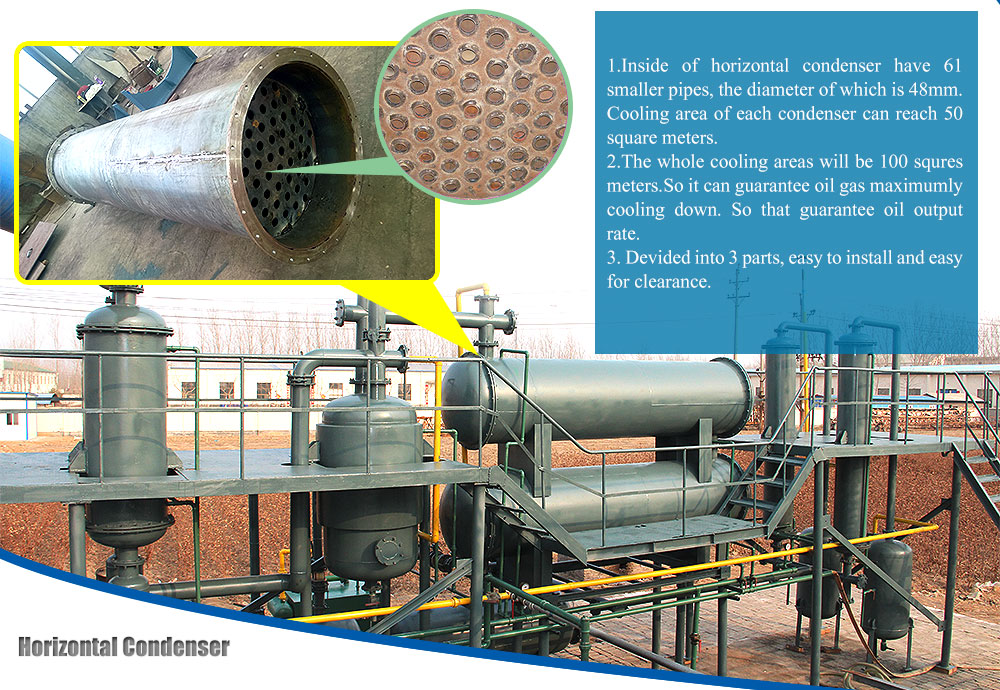 The condenser of waste plastic and tyre pyrolysis plant
4. Long service life
Reactor directly decides the machine's safety and service life. It is made by welded steel plate. So the quality of welding will have a direct impact on safety and service life. Therefore, we use automatic welding machine, X-rays detection and heating treatment which will not only guarantee the quality of welding but also greatly improve working efficiency.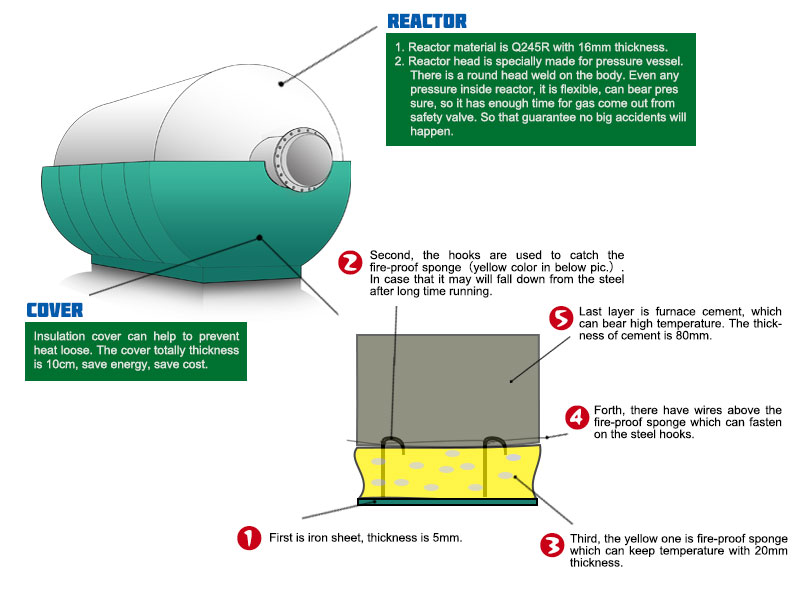 Pyrolysis reactor
5.Environment friendly
There are four products that may pollute the environment, gas, waster, noise and smell, for which we have special equipment to treat. So the waste plastic and tyre pyrolysis plant is environment friendly.
(1) Gas. From our pyrolysis plant, there are 2 kinds of gas, one is gas from feeding material, like coal, wood etc, this gas will go through the dedusting system, gas after dedusting system is very clean, almost like steam. We have the SGS report for this part gas, it can reach international standards. Another part gas is uncondensible oil gas, this part gas we will recycle to furnace for heating reactor as energy. In the dedusting system, three steps (water spray, ceramic ring filter, washing chamber) are used to dedust the extra gas and more than 95% of the dust would be removed. The released gas is pollution-free and can be discharged into the air directly.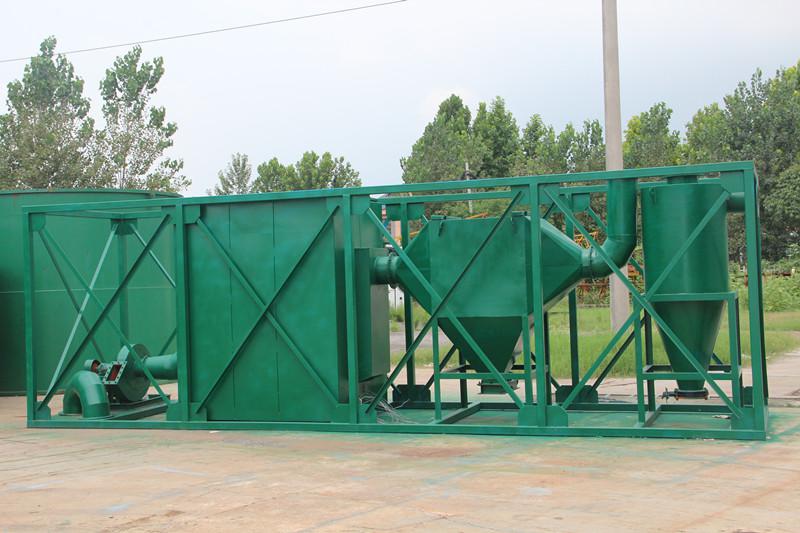 Pulse dust collector
(2) Water. Like gas, water also have 2 parts. One part is for cooling down oil gas, this part water is pumped through the pipe, oil and water are always indirect contact. The water in the circulating system is always clean. Another part water is concluded in dedusting system, water film dust removal system use high-pressure hydraulic pump to press water into high pressure nozzle which atomize the water to clean the smoke from furnace, this part water is also circulating. So water no pollution.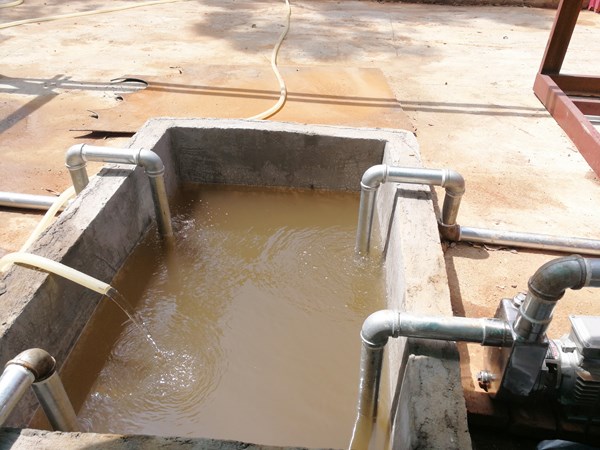 Water circulating system
(3) Noise. The main noise from pyrolysis plant is draft fan, noise is <50db. So no noise pollution.
(4) Smell. If you burn waste tire directly will cause bad smell and make pollution to the environment., but our machine is totally sealed, no bad smell come out. So no smell pollution.
Desulphurization and odor removal tower
Pyrolysis plant is no pollution and it can help you solve your countries' waste tire pollution problems. Over than million tons of waste tires and plastic were disposed by our waste plastic and tyre pyrolysis plants yearly.
After-sales service of waste plastic and tyre pyrolysis plant
1. We will reply your inquiry at the first sight. If there are some troublesome problems beside me, the reply will get to you no more than 24 hours.
2. General plan of the project will be given within one day after we agree on the details and sign the contract.
3. You will receive the foundation layout within two days after you remit deposit.
4. The expert will be arranged for your factory to finish the installation as well as training your workers.
5. We will have periodical call visit, make sure no problem with your equipment or find the problem timely and solve it immediately.
6. We guarantee for you with lifelong maintenance at all times.
Benefit analysis of waste plastic and tyre pyrolysis plant
Profit analysis from Macedonia cutomer(10 tons capatity)
Cost for one batch
NO.
Item
Cost of each batch
1
10 tons of waste tire
10T*USD 42.5/t=USD 425
2
0.4 tons of coal
0.4T*USD 70/t=USD 28
3
Electricty and water
244 kwh*USD0.26=USD 63.44
4
Workers
4*USD 15=USD 60
5
Total cost
USD 576.44
Income for one batch
1
Crude oil
4.5T*USD960=USD 4320
2
Steel wire
10T*15%*USD350/T=USD 525
3
Carbon black
3T*USD 20/T=USD 60
 
Total income
USD 4905
Profit
1
Daily profit
USD 4328.56
2
Month profit
4328.56*25 days=USD 108214
3
Annual profit
USD 108214*10 months=USD 1082140
Application of waste plastic and tyre pyrolysis plant
The tire pyrolysis oil, one kind of end products extracted from the pyrolysis process, is often used for producing heat, electricity, steam and so on. If this oil can be distilled by professional pyrolysis oil distillation plant, it can be used for vehicle. The final product from waste tyre/plastic pyrolysis plant is fuel oil, carbon black and steel wire. Fuel oil can be as fuel to heating, such as heavy industries, cement factory, steel milling factory, glass making factory, boiler factory etc. Diesel oil can be used for tractors, trucks, and diesel oil generators. Carbon black can sell to cement factory, also can pellet them to heating the machine.
Fuel Oil (45% to 52%)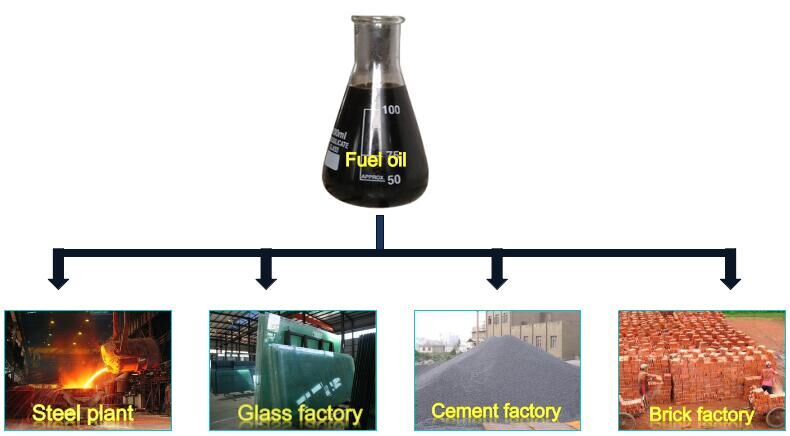 Fuel oil application
The main application of oil products produced by DOING waste plastic and tyre pyrolysis plant is the fuel oil that is wide used for industrial and commercial purposes. 45% to 52% oil of the amount of recycled scrap tyres can be carried with licensed tanker trucks.Such as power plant factory,glass factory,cement factory,boiler factory.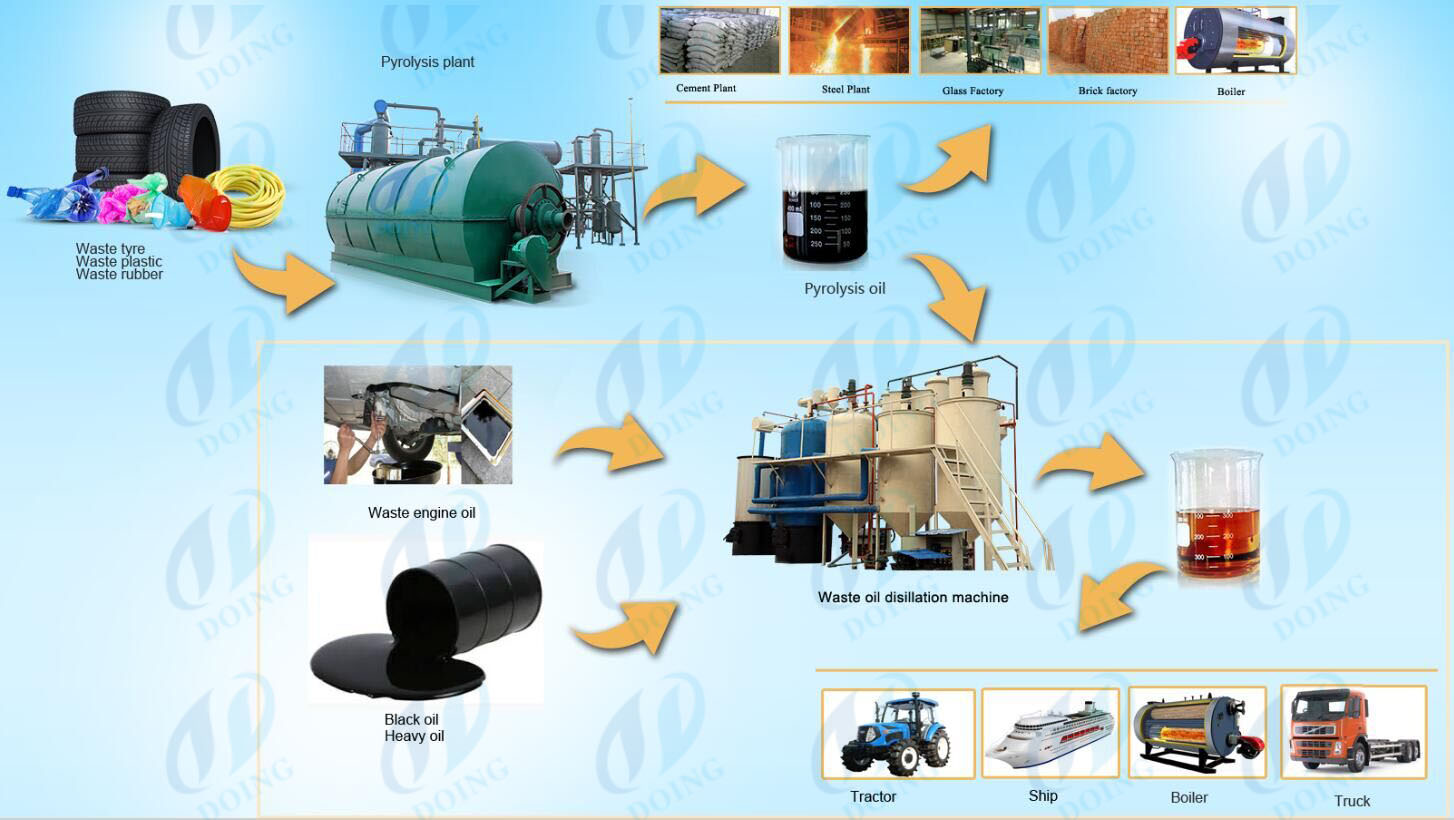 Fuel oil refined into diesel
After waste oil distillation plant, you can get diesel, which can be applied to tractors,trucks,ships etc. Certainly, this waste oil distillation project will bring in much considerable benefit for both society and economy, and change into new economic growth of industry recycling development.
Steel Wire (12% to 15%)
The third product of DOING waste plastic and tyre pyrolysis plant is steel wire, the quantity of steel wire is about 10% to 15% according to tyre quality. It is very easy to sell steel wire in local market.
Carbon Black (30% )
The second product of DOING waste plastic and tyre pyrolysis plant is carbon black. The quantity of carbon black is about 30% to 35% according to tyre quality. The use of carbon black is as a chemical strengthener in rubber and coloring agent in pigment industries. This carbon black price is very competitive compared to petroleum carbon black, so our pyrolysis carbon black is good option in stead of petroleum carbon black.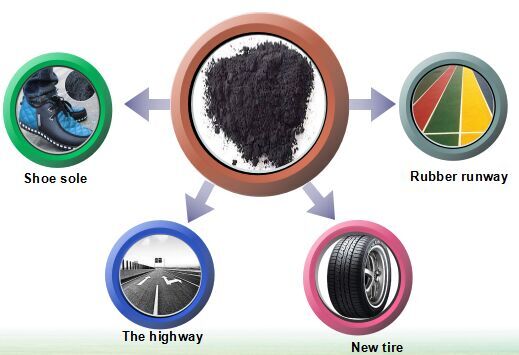 Carbon black application
Oil gas (About 10%)
We get about 10% oil gas during pyrolysis process. The main component of this gases are methane (CH4), so we can not condense and store this gases. We use this gases to heat the reactor and we can use exceed gases for other heating application.