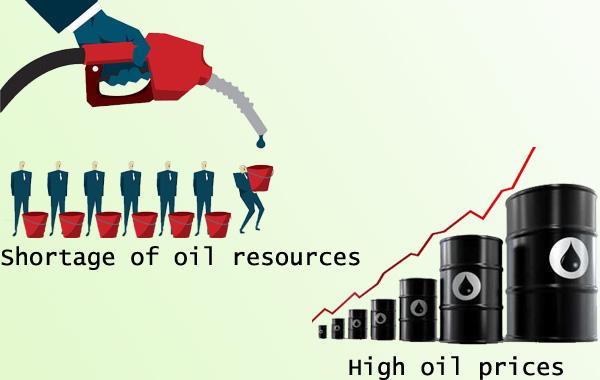 Background of pyrolysis plant project
1. The background and practical significance of project development
China is a relatively oil-poor country. Experts estimate that stable supply of oil will not exceed 20 years. It is very likely that 2020 when we will achieve a "comprehensive well-to-do society" will be an "inflection year" for the loss of oil supply. High oil prices, shortage of resources, environmental pressures, and the need for rapid growth have created irreconcilable contradictions. During the two policy sessions this year, in order to promote the development and utilization of renewable energy, increase energy supply, improve energy structure, ensure energy security, protect the environment, and achieve sustainable economic and social development, related policies and regulations were promulgated, and a strict supervision mechanism was established. The clarion call for China's vigorous development of renewable energy and the development of alternative energy sources provide a strong policy guarantee. The National Environmental Protection Agency has listed waste oil as one of the three major priorities in the 21st century in the field of environmental protection. The full use of waste engine oil to regenerate finished motor oil, or to refine waste engine oil into gasoline and diesel, will not only ease China's oil shortages, with the growing demand for supply and demand contradictions, but also can promote environmental protection and turning waste into treasure, create considerable economic benefits, help some people get rid of poverty and become rich, is the country to encourage and support projects so the prospect is very broad. The technology is simple, the technology is easy to grasp, and the intuitiveness is strong. It is suitable for the production, operation of the factory, the collective, and the individual. It can be foreseen that the development of abundant waste oil resources and the regeneration and utilization of waste oil will surely be one of the most promising emerging industries in the 21st century.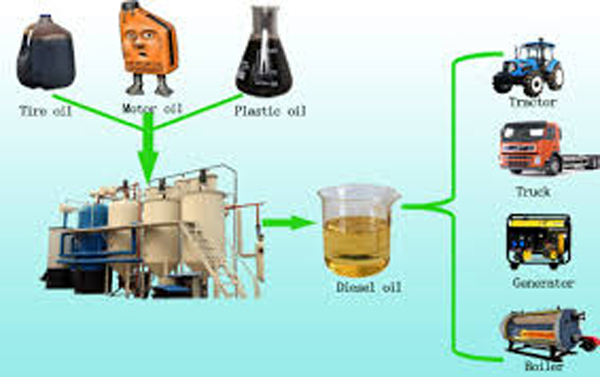 Used/fuel oil distillation machine
2. Overview of recycling of used oil
Waste oil refers to waste lubricants that have been replaced from various types of machinery, vehicles, and ships. The production process is due to the fact that the lubricating oil is subject to external pollution during the use of a large amount of colloidal, oxide, thus reducing or even losing its control of friction, reducing wear, cooling and cooling, sealing and isolation, reduce vibration and other effects have to be replaced. Lubricants are widely used in the quenching and lubrication of engines, transmissions, gears and turbine gears for automobiles and ships, water tanks and cooling systems, automatic gearboxes, gear oils (for manual gearboxes), brake and clutch systems, crankcases, power systems Transformers and various mechanical transmission parts, etc., use a very wide range. The oil used by large-scale machinery, ships, or large and small cars must be changed at least once a month. The price of oil is known to be expensive. Even if it is expensive, each unit has to use it, and the quantity can only increase. cut back. According to incomplete statistics, China currently has more than 80 million motor vehicles, more than 100,000 shipping vessels, and nearly 300,000 motorized fishing boats. The only three oils that need to be replaced each month amount to more than four million tons. In large scale, there is very little recycling, and most of the replaced waste engine oil is dumped or burned on the spot, which wastes a lot of resources and causes serious environmental pollution.
With the rapid development of waste plastics and waste rubber distillation industries, the application of fuel oil produced by them has become more and more widespread, and has penetrated into various fields of the national economy and people's daily lives. However, at the same time, due to the rapid development of the industry and the increase in employees, the price of raw materials has also increased substantially. On the basis of not reducing the cost of raw materials, how to increase the added value of fuel oil? The simplest method is to re-distillation the fuel oil produced from waste plastics and rubber. The color of oils after distillation is usually light yellow. The main technical indicators can reach 0# or -10# diesel oil. Standards can be used instead of the latter, and the price can be increased by 300USD per ton compared to fuel oil/crude oil.
At present, the
Tyre/Plastic/Rubber fuel oil to diesel oil machine
is also with different quality. On the basis of various researches, we combined the advantages of large-scale petrochemical distillation machine, built strengths and avoided weaknesses. Based on actual conditions, after years of scientific and technological research, we designed and launched DoingGroup's patented products with independent intellectual property rights. Purification and reduction technology.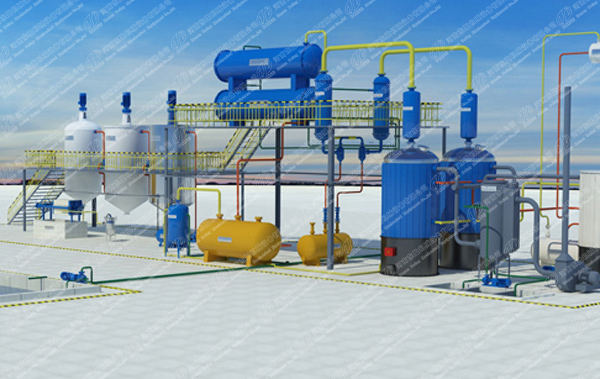 3D used/fuel oil distillation machine
3. Several major features of the
tyre/plastic/rubber fuel oil distillation machine
1). Each device consists of the following components:
d. Vertical and horizontal condensers.
g. Decolorization and deodorization tower.
2). The company promises:
The company sold a variety of series of equipment with perfect after-sales service, the warranty period of one year, completely resolved the customer's worries.
4. Product and Raw Material Market
With the rapid development of the world economy and the growing shortage of oil, energy has become a major factor constraining the economic development of various countries. It has been proved that the oil on the global land will be mined in 15 years! Finding new energy has become a concern for countries in the world. China has a vast territory and a large population. With the rapid development of the market economy and the popularization of vehicles and machinery, the demand for the oil market is continuously increasing. China has changed from an oil exporting country to an oil importing country.
So can the raw materials of the refinery guarantee the source?As far as mainland China is concerned, almost every area above the county level has a factory that uses waste plastics and waste rubber to distillation fuel oil. In addition, a large amount of waste mineral oil and waste motor oil also needs to be disposed .Therefore, a county that builds a distillation machine that refines 1,500 tons of used oil annually does not need to worry about raw materials.
5. The main technical features of tyre/plastic/rubber fuel oil distillation machine
1). Double heating system can ensure the system can be heated quickly and improve the operation efficiency of the equipment.
2). The interior of the heating system adopts calandria heating design to ensure evenly heating.
3). Vertical reactor design to facilitate slagging.
4). The cooling system is cooled by circulating water, which can recycle water resources without causing pollution and waste. It is energy-saving and environmentally friendly.
6. Distillation machine applicable products and industries
1). Fuel oil pyrolysis from waste plastics and waste rubber. . .
2). Waste oil. For example: waste diesel engine oil, waste engine oil, waste oil residue ,waste motor oil and so on.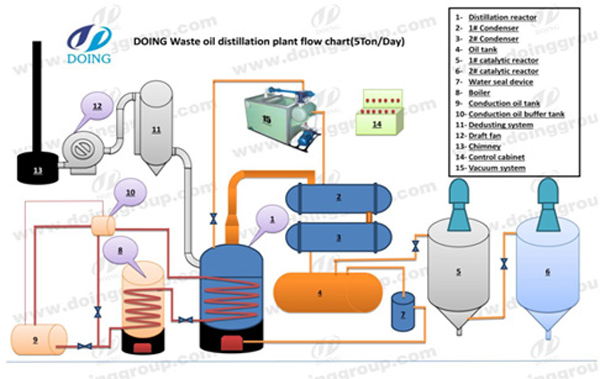 Used/fuel oil distillation machine working process
7.
Tyre/Plastic/Rubber fuel oil to diesel oil machine
Process flow
The tyre/plastic/rubber fuel oil , waste oil that requires deep processing is pumped into the reboiler through the oil pump, and heated under the normal pressure to distill the oil vapor. The oil and gas passes through the tower and enter the condenser, which can be liquefied and condensed into diesel oil. The non-liquefiable part is sent to the heating system through the gas system to burn off.
1). Indirect and direct heating two heating methods to protect the reactor safety;
2). Thermometers, pressure gauges, etc., display settings and alarms, etc.;
9. Environmental protection
Treatment of the three wastes in the production process.
Through the water film dust removal, the generated exhaust gas is sprayed in three layers, and the filtered exhaust gas is finally harmlessly discharged.
During the processing of oil products, waste water will be generated and will be recycled after sedimentation and other treatments.
After the
Tyre/Plastic/Rubber fuel oil to diesel oil machine process
, there will be some solid residues, which will account for about 5% to 10% of the weight of the raw materials. The main component is asphalt. In the market can be sold as a production bitumen.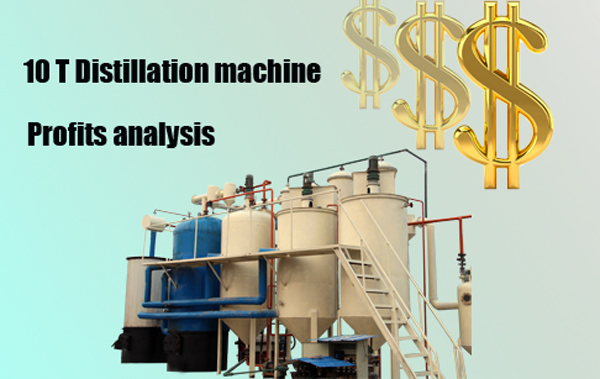 Used/fuel oil distillation machine profit analysis
10. Analysis of economic benefits

1).
Tyre/Plastic/Rubber fuel oil to diesel oil machine
technical parameters
Technical parameter of tyre/plastic/rubber fuel oil/waste oil distillation machine

Items

Contents

Model

DY-5T, DY-10T, DY-20T, DY-50T…

Raw material

motor oil, waste tire/ plastic/rubber fuel oil, waste engine oil

Structure form

Vertical (easy cleaning and maintenance)

Heating method

Indirect heating to prolong the machine service life

Operating pressure

Constant pressure

Heating material

Coal, charcoal, fuel gas, fuel oil

Average out-put oil rate

95%

Material of reactor

4 reactor with different material

Thickness of reactor

18mm

Mode of cooling

Recycled water cooling

Power in total

20 Kw

Service life

average 7 years

Land area

180㎡
2).Through this process, we can obtain 80-85% diesel and 15-20% asphalt. we will
get the following inputs and outputs for profit analysis.
Waste oil: 10 tons X288 US dollars / ton = 2868 US dollars
Heating the fuel can use any of the following:
1) Coal: 0.4 tons X 64 dollars/ton = 25 dollars
2) Fuel: 0.6 tons x 478 dollars/ton = 287 dollars
3) Diesel: 0.5 ton X 765 U.S. dollars/ton = 382 U.S. dollars
4) Natural gas: 200m23 X 0.36USD / m3 = 72USD
Power consumption: 25KW / h X O.16USD X 20h = 80h
Water consumption: reuse in water, almost no consumption
Workers: 1-2 people X 16 dollars = 32 dollars
Fuel: 8 tons X 765 dollars/ton = 6118 dollars
Asphalt: 1.5 tons X 175USD/ton = 263 dollars
Profit/day (calculated on fuel diesel) of $3017.
According to the above analysis and calculation, it is shown that the use of waste tyre/plastic/rubber fuel oil, waste engine oil, and waste motor oil as raw materials for deep processing is technically advanced and feasible,
Tyre/Plastic/Rubber fuel oil to diesel oil machine
with less investment, more raw materials, and quick results and good prospects. It is the best choice for investing and setting up factories.